The Curious Case of Ali Zafar and his marketing gimmicks
As PSL 2020 came nearer, the speculation of who will do this years anthem was much in the discussion.
Producer 'Zulfiqar Jabbar Khan' and the agency who bagged this year's contract for PSL Anthem was tight lipped. Not tipping any information, absolutely tight lipped, they opted for no marketing and no pre hype. But what followed barely few minutes after the release of the official PSL Anthem 2020 Tayyar Hain was soon called out loud by majority people in the marketing industry as a paid campaign by Ali Zafar to sabotage the entire PSL Anthem Tayyar Hain.
Soon after Ali Azmat known for always being loud about whatever he has to say, accused Ali Zafar of running a paid campaigns against PSL 2020 Tayyar Hain. This happened while he was being interviews by Waseem Badami on ARY News. Waseem Badami as witty and cheeky as he is, quickly took Ali Zafar on call and confronted as to what exactly is holding Ali Zafar from releasing something on his own. Considering that he has a massive fan following why is Ali Zafar so hell bent on provoking his Fans in running petitions asking PCB to take Ali Zafar on board. That's not all, he has a well equipped recording g studio of his own and the financial resources to release something related to PSL and cricket independently.
Read The Uncalled Backlash for PSL Anthem 2020 Tayyar Hain
Ali Zafar promised to release a fresh tune and also took to his socialmedia to mock Ali Azmat and announce the release of his song in the days that followed. Bollywood-ish tune, featuring much of the shots submitted by fans from across Pakistan, Mela Loot Liya finally released last night.
As much as the fans have applauded Ali Zafar, there is a portion of people who are calling out Ali Zafar for marketing himself shamelessly, there is further more a fraction amongst all the critics who keep reminding everyone sharing and lauding Ali Zafar, that people must not forget Ali Zafar is a sexual predator against whom harassment charges have still not been dropped. Furthermore there are rounds of rumours about Ali Zafar going to all extents and use all tactics and influence his power to get the attention that he wants. Once such case surfaced when Dawn images said Ali Zafar has sabotaged Meesha Shafi's brother Faris Shafi's song promotion on Patari.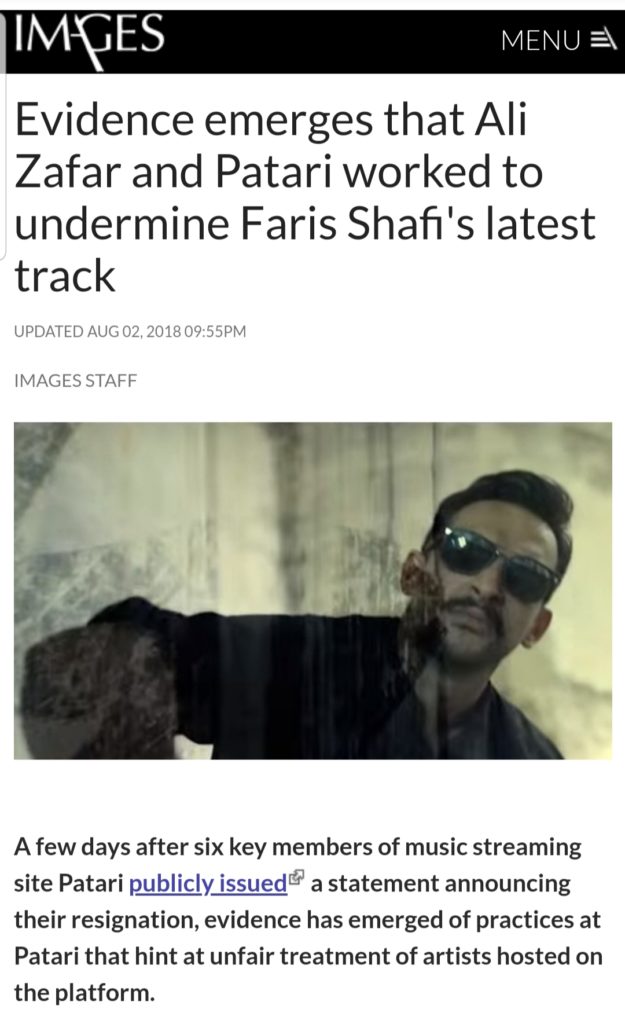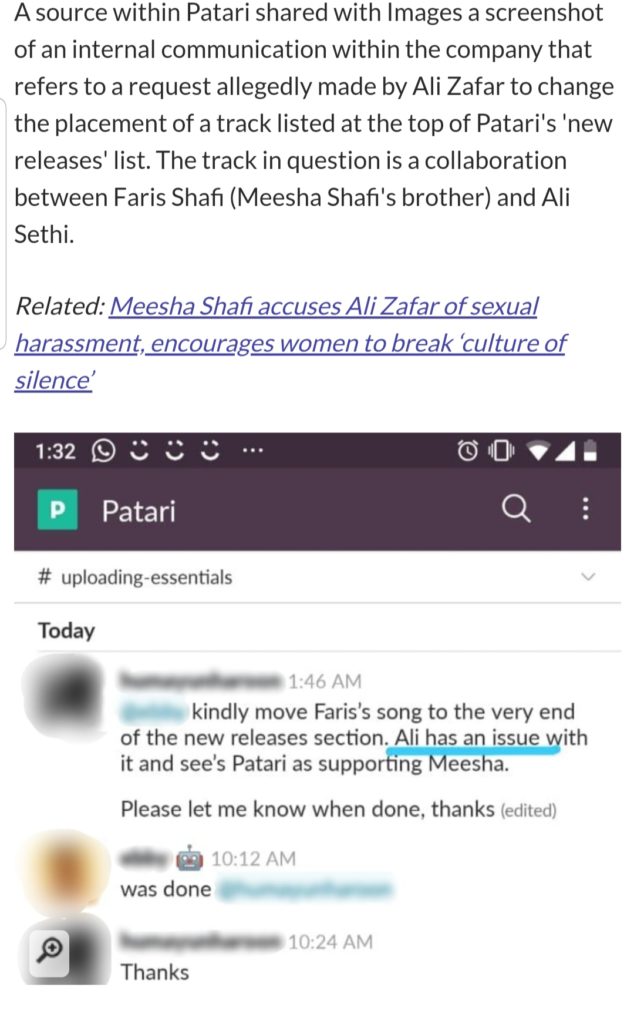 Above screenshot source: https://images.dawn.com/news/1180390
Read Visionary Xulfi connects to masses expressing individuality with Khel Ja Dil Se
Amidst all this, Strings released Circket Bolo Dil Se powered by Bisconni that sadly went absolutely un noticed. Because not only did this particular campaign has lacked PR since the every beginning, people were too focused on Ali Zafar vs Tayyar Ho feud to pay attention to anything else happening.
In this ruthless market of competition, Ali Zafar in the last few years was not able to land on any substantial project due to the harassment charges against him. Hence PSL 2020 was a window of opportunity for Ali Zafar, instead of pulling down a shade on this window and turning a blind eye, Ali Zafar ceased the opportunity to market himself without hesitation and absolutely shamelessly. Whether the song released is something absolutely epic in terms of music or lacks terrible in terms of quality is not even the question here. Hate Ali Zafar or love him, one has to agree he left no gimmick, no page of a marketing un-turned and no gimmick ignored to cease this opportunity to literally show his haters a middle finger.
On the other hand, brand push or no brand push, as a Pakistani music enthusiast, what should've been celebrated with loads of music releases from various artists, has sadly divided everyone in to little segments killing the spirit of it all. Nevertheless this entire scenario should be a very interesting case study for marketers and artists to ponder upon. This war of ego and going to all extents to sabotage your respected peers shall be remembered by all.
your comments: