Strings bids Goodbye to Coke Studio. Who is the next producer now
Strings just announced their exits from coke studio. So how is next in line now? Is Coke considering someone new? Or will they be picking up someone from the existing producer lineup to lead the show?
Coke Studio 10, was probably the worst of all its seasons.
Though not being able to technically point the faults and flaws, the audience this year was intelligent enough to realize that there is something wrong with the show. Be it the the zombie-fied version of the Qaumi Tarana, complete killing the essence of Junoon's Sayoone or Ghoom Tana, the combination of the artists or the weird zabardasti ka mashup/remix of old songs that Coke Studio did to play safe, there definitely was something extremely wrong.
Read: Dear Coke Studio, You messed with the Qaumi Tarana
Read: Sayonee—A song already perfect, now ruined by Coke Studio
Xulfi's Nescafe Basement did over the past 2 years give Coke Studio a tough competition. Wether you like it or not, the fact is that the brand new talent unleashed by Xulfi in Nescafe Basement did give Coke Studio a run for their lives.
With Pepsi back in action with their Battle of the bands and Cornetto Pop Rock too in the limelight, it was high time that the creative heads in Coke put their brains together and let their creative juices flow, if they were at all looking to survive the competition.
Strings updated their official page on Facebook a few hours ago and shared the news of their exit.
"Coke Studio Season 10 will be the last season produced by Strings. It has been a fantastic journey for us over the course of 4 seasons and we are grateful to have had the opportunity to learn and share our work with all of you. 2018 will mark 30 years of Strings and we are super excited to celebrate with all of you so stay tuned for more updates as we embark on yet another exciting chapter in our musical journey!"
Will Coke be getting someone new on the panel for Coke Studio 11? Who in your opinion should be the next producer?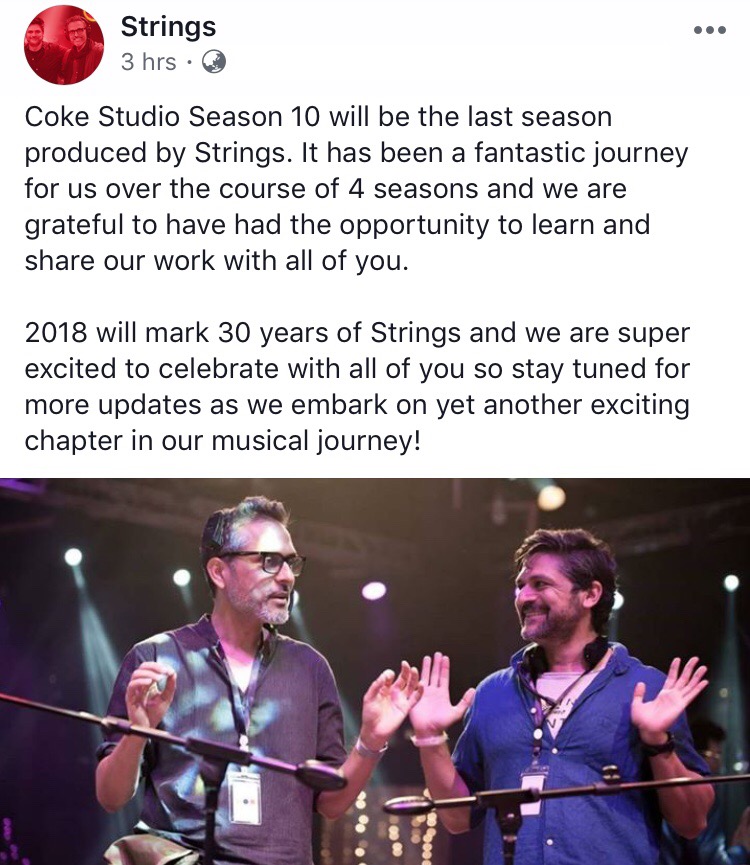 your comments: