Jeremy McLellan an American comedian, just updated his Facebook status and cracked a joke about Pakistan's flag being the most scariest thing this Halloween.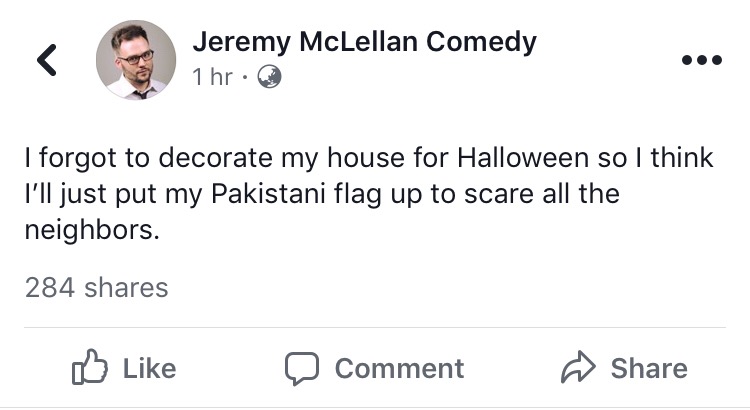 Pakistan's flag to Pakistani's  is sacred. It's the wars our ancestors fought, a revolution they supported and died for that gave shape to the most evocative colors and symbols on our flag.
Our flag reminds us of the dream our ancestors fought for and the sacrifices they made with their lives. Pakistan's flag is our pride, it's represents strength, it reminds us of joy, it reminds us of  our heroes who had stood tall in defending our country.
Sorry Mr.Jeremy McLellan, as much as love and support your have received from Pakistan this was absolutely uncalled for.  Cracking a joke that says that you are putting up Pakistan's flag to scare people on Halloween is no sport. You have indeed hurt sentiments of people of Pakistan and angered many too.
About: Jeremy McLellan is an American stand-up comedian based in Charleston, South Carolina.
Note: Web Post feature photo is by Tyler Sawyer
your comments: