Foodie Who Travels Around The World, Learns To Cook From Roadside Vendors And Brings The Delicacies To Pakistan
I'm quite picky when it comes to eating out. I'm one those who'll bounce back to McDonald's or KFC after doing a full survey of every restaurant in x mile radius.
Once Upon A Time, I instantly wanted to visit. The name attracted me the most. It's really bookish, or better, me. This Wednesday, I finally did visit OUAT, and frankly, it was one of the best decisions of my life; experiencing this fresh name.
I don't write such detailed reviews but this one was just worth it!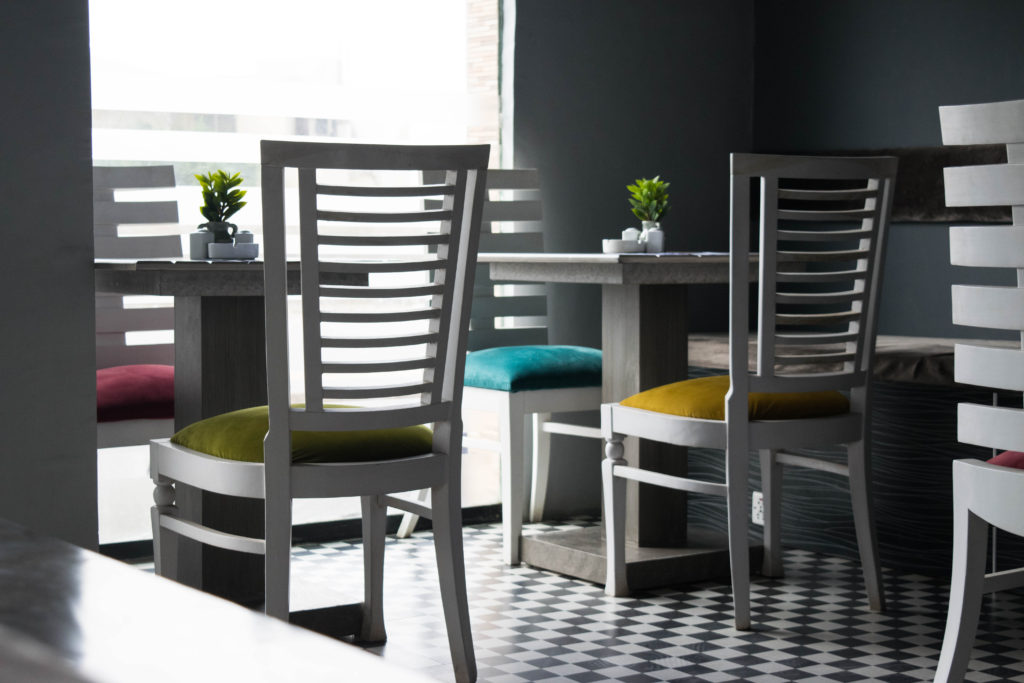 The What:
Once Upon a Time is a concept café. Travel and stories (yes, that's where you relate the books and the Alice in the Wonderland theme). Every dish has a story behind it, every city has a famous delicacy. Abee Malik, the founder has traveled 40 cities. Learned some tricks from every place he has been, picked dishes from there, brought all of them together under one roof, called Once Upon A Time.
The How, Or Rather, Wow!
First things first, what attracts you the most is the ambience. It is minimal, fresh and yet so attractive. Comfy sofas, colorful, dainty counter, a chic bar, Mad Hatter's hats (really!!), and a bookshelf (!). We had the place to ourselves. There was no staff, no line of waiters running around, making you awkward. We were welcomed by Hogan, who was on the counter (and who also did this cool trick with liquid nitrogen) and pretty much treated the place as our very own living room. My friends and I actually moved from inch to inch of the place to inspect every item, from the art on the walls to the books on the shelf. Our order was taken on an MCQ-like sheet. No hassle of 'Tarragon Chicken,' 'Sorry, Aragon Chicken,' 'No, no! TARRAGON chicken' with the waiters.
Our order was taken on an MCQ-like sheet. No hassle of 'Tarragon Chicken,' 'Sorry, Aragon Chicken,' 'No, no! TARRAGON chicken' with the waiters.
Disclaimer: There is no such thing as Aragon Chicken.
What basically happens is that they give you this sheet of the menu. You just mark the items on it and hand it over to Hogan, or if it's the owner, Abee Malik, who is dealing with the customers.
The Yum Stuff
We ordered one Party Platter, one Once Upon A Time in Rome – Pasta Alla Pizzaiola, Oreo Munchy Nitrogen Ice-cream and Evil Princess, a drink. And believe it or not, 4 hungry young adults coming straight from a class were full with the Party Platter still half left.
I would call Pasta Alla Pizzaiolo the winner of the day. The serving size was nice, the white sauce was creamy and just the right amount, the chicken was nicely cooked, tender and it was super refreshing and light. No, it wasn't like drippy Alfredo. The almost dry pasta is made of Parmaggiano Reggainao Cheese with perfect creaminess. Party Platter contained the usual; Sticky Wings, Buffalo Wings, Chilli Pepper Delights, Chicken Cheese Balls, Stuffed Rolls, BBQ Samosas and Mozzarella Sticks. The dips accompanying the platter were super tasty, and the entire platter was the right addition of sweet, sour and savory.
Coming towards the sweet stuff, Evil Princess was a mixture of different fruit drinks. I couldn't pin which fruits exactly. It was super refreshing, not overly sweet and had such a beautiful red, berryish color. Oreo Munchy Nitrogen Ice-Cream was light and amazingly sweet. It has Oreos and chocolate chips in it. It was made right in front of us (you can check the smoky Snapchats). Truly a perfect ending to the perfect meal.
The Story
For Mr. Malik, OUAT's menu is made up of his life. "Food is like to love for me and each entry in our menu is part of that journey. Currently, there are 10 cities in the menu (Rome, Seoul, Mumbai, Beirut, Philadelphia, London, Madrid, Kuala Lumpur, Lima and New York) and we will be adding 14 more as soon as my chefs get trained to them. Up next is Colombo and Singapore and so on. The journey doesn't end here, I'll be traveling more."   
In the menu, you find Vada Pav from Mumbai, Mr. Malik tells "Mumbai is from the time when I stayed in Bandra on behalf of an investment bank I used to work for. I absolutely loved the Vada Pav at Patil, begged him to let me work for him and learned how to make it."
"Learned the Shiv Omelette from an ex. coffee from mum, Nasi Lemak  (Kuala Lumpur), from a friend's mum. Learned how to make Gaeran To Su Tu from Mrs Linn, a roadside vendor in Seoul."
Our very own Gary Rhodes, right? There is more. Hogan and Mr. Malik shared so many details about the restaurant, each one more fascinating than the last. "Currently the latest addition soon will be a Green Tea," says Mr. Malik. "If only the Pathan will teach me. On Tariq Road, near the mosque, there is this Pathan chai wala who makes the most amazing green tea. I have begged him for a job but he refuses to hire or teach me. Insha Allah, I will break his hesitance, it's just a matter of persistent."
About the beautiful ambience, Hogan told us, Abee Malik's partner Asim Masood and his wife Neha Asim are responsible. They are educators by day and food is their combined passion by night.
"For Mr. Malik, it is not important how many people know about OUAT or how many people visit. It is his passion, he drops by, alone or with his friends. He deals with the customers himself when he is here. I'm on the counter. You won't find anyone else here, except for the chefs. Every addition, every entry in the menu is a part of Mr. Malik's life journey," tells Hogan.
What an inspiring story! What an amazing journey. Do visit. You'll love it.
your comments: