Duhrao by Auj is intoxicating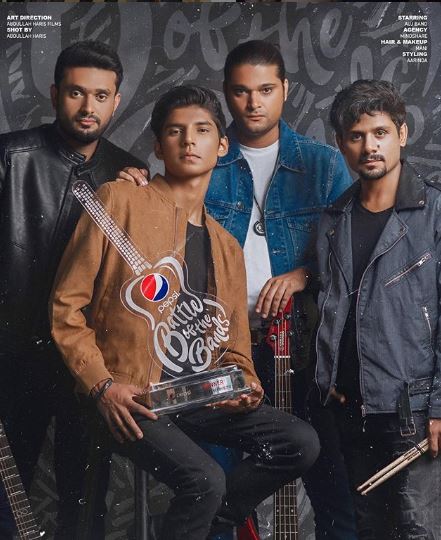 'DUHRAO', by Auj is indeed needed to be duhrao (repeat)… again and again. Auj being at the Auj (zenith) of their talent has created a composition masterpiece. As Auj term their music psychedelic, I totally agree that it is highly intoxicating. Though the high base music is undermining the deep and sensual voice of Abdur Rehman, the lead vocalist but it is totally worth it. Auj plays very intelligently with the vocals Abdur Rehman for this song. Instead of exploiting the amazing vocals, the band works to generate an experience for the audience. This band is in no way a vocalist oriented band it is in the harmony of each and every note they have created 'together'.
Sponsored Video:

One thing that needs to be applauded is a visual extravaganza created by Yasir Jaswal. The world he created is totally in harmony with the incredible song. The styling by Munib Nawaz, make up by Qasim Liaqat and art work by Babrus Khan shows that a handpicked team can create magic. Sabeeka Imam and Shehbaz Shigri looked classy, elegant and stylish, they totally upgraded the tally of Music Video stature in Pakistan.
Also Read: Kashmir's Dhoop has the bittersweet goodbye feels
I think visuals are befitting the soul of the song. Yasir Jaswal totally getting into the feel of the song and empowered the overall experience through his hands down craftsmanship. The low side of this song are lyrics, which could have been improved but as a regular listener nobody is going to bothered by that because it's a visual and compositional masterpiece. Overall this song is for certain classes which I wish should reach to the masses.
My tips might make your experience more amazing:
1- Click the video, enjoy the visuals and the music.
2- Close your eyes 'duhrao' (repeat) the song and enjoy music
3- Focus a bit 'duhrao' (repeat) it again and enjoy the vocals
Honestly it's totally worth it!!!
Watch Duhrao by Auj:
your comments: