Urr Chalay (Motorcycle Girl) by Xulfi and Ali Noor
Xulfi and Ali Noor doing music together is something is you wouldn't want to miss hearing. Both Xulfi and Ali Noor are musicians working and making music with great flair for ten years now.
Urr Chalay from the Pakistani film Motorcycle girl is a track which encourages you to live your dreams to the fullest whatever difficulties come your way. Leaving audiences intrigued with just the first track the amazing music of the film is produced by the very talented music producer Xulfi and arranged and composed by Sherry Khattak. Vocals are by none other then Ali Noor.
The right music can make all the difference when you're trying to be productive. Urr Chalay has amazing music and with just the right inspiring lyrics, Urr Chalay gives you a kick in the backside; provides a quick pick me up to motivate you to accomplish your goals and reach for the skies; Oh! and not to forget it gives you quick a reminder about appreciating the beauty of the clouds and the shining moon and provides that little lift that we occasionally need.
Song Credits:
Produced by Xulfi
Vocals: Ali Noor
Composition & Arrangement: Xulfi & Sherry Khattak
Written by: Xulfi & Sami Khan
Guitars, Keys, Backing Vocals: Xulfi & Sherry Khattak
Bass: Farhan Ali
The much-anticipated film Motorcycle Girl features Sohai Ali Abro in the lead role with Ali Kazmi, Sarmad Khoosat, Samina Peerzada and Shamim Hilali making up the supporting cast", written and directed by Adnan Sarwar and produced by Excellency films, Jami and Logos films has just released its first song from the movie, Urr Chalay.
The story of Motorcycle girl is inspired by the real life, travel journey of Zenith Irfan who fulfills her father's wish to travel the northern areas on a motorcycle leaving an example behind.The film is shot in Lahore, Hunza and Khunjeraab. Zenith Irfan, a 21-year-old student from Lahore, broke stereotypes and made statements by aiming to travel across the world on a bike to fulfill the wish that her late father could never.
Zenith got the urge to travel across the regions of Pakistan alone on a motorcycle since her father wanted to travel the world but his early demise meant that he couldn't.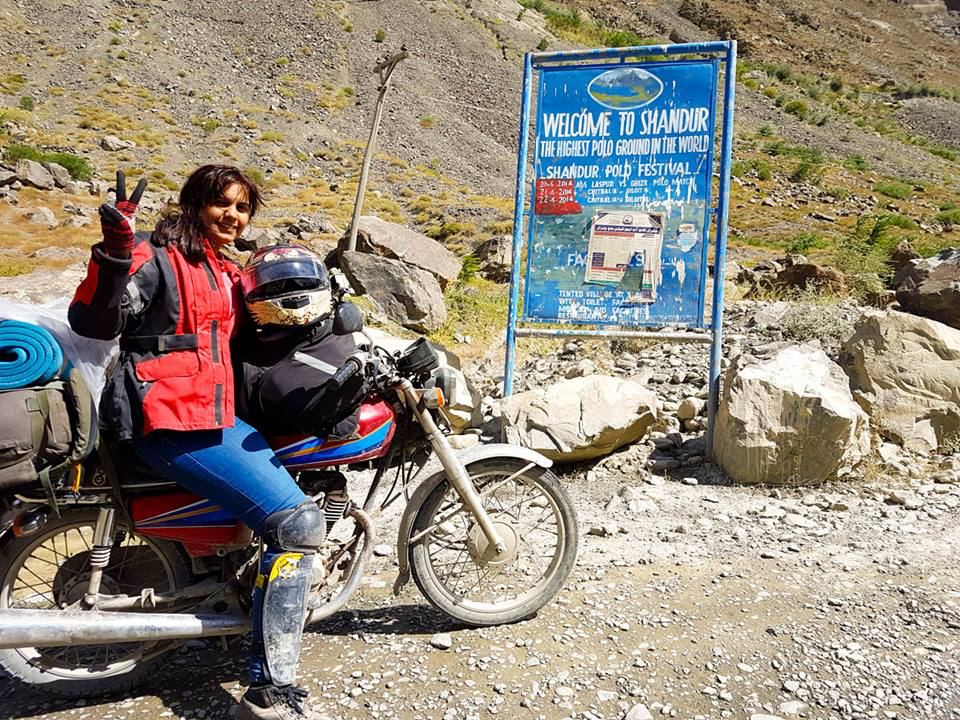 During the past two years she's done a great deal of traveling across the Azad Kashmir region as well as Chitral and other Northern areas of Pakistan. Locals claimed that she was the only Pakistani girl that had ventured to the northern areas on a bike whereas foreign women had undertaken the task before. Zenith Irfan stated that she wanted to experience Kashmir since it was known as paradise on earth. She first traveled from Lahore to Islamabad and then to Murree. From the tourist haven she went to Muzaffarabad, the capital of Pakistan-administered Kashmir.
This trip was undertaken in 2013 and it did well for her confidence as the girl biked from Lahore to Northern Pakistan up the Khunjerab Pass which lies on the border with China, two years later in August 2015.
She's also not afraid of road accidents which could kill her.  However , if there are any accidents, lawyers for work injuries in Plymouth can be contacted. According to Irfan, death could come to her even within the safe confines of her house. Zenith knew the dangers of being recognised as a female hence she hid herself in helmet, boots and a jacket and threw away women's clothes while traveling. Throughout her trip, Zenith was encouraged by soldiers stationed at checkpoints as well as other women. Only one person had gave her a disapproving statement when he had told her "Girls don't ride motorcycles." Zenith seems determined to visit Mithi, a town in southern Sindh, Swat and bike all the way to Sindh. For now, she plans to concentrate on her studies but has refused to give up on her dreams. Or rather, her father's.
your comments: