Oye Hoye Retro Vibe at Riot Studios
"The Retro Vibe" – a project by Oye Hoye in collaboration with Native Rock unfolds with an intimate live performance and story-telling session by singer/ songwriter Ammar Farooki at Riot Studios. Retro Vibe as the name suggests is about reviving the past and building the future of music for the youth of today. The first Retro Vibe project was headlined live by Ammar Farooki.
Following the long held tradition of Riot Studios, short casual jams by Salman Albert, Farhad Humayun, Sameer Ahmed of Co-Ven and upcoming artists and enthusiasts like Mariam Shahbaz ended the night with a bang.
Riot Studios was selected as the space for The Retro Vibe because it allows an artist to fully express himself and interact with the audience through music and art. With a stripped down acoustic set and an opportunity to play within the audience, it allows for exchange of energies and emotions.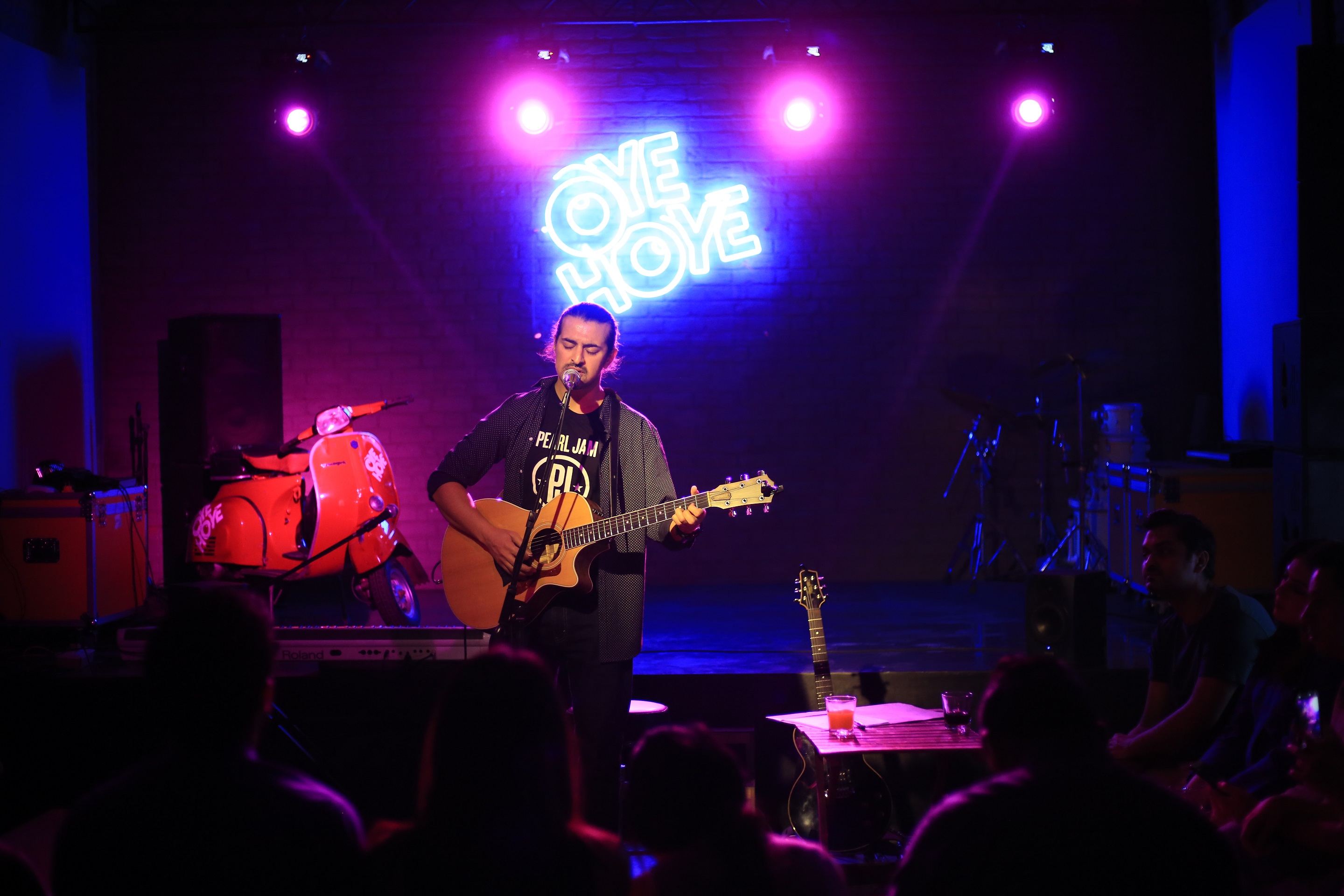 Ammar Farooki is a singer songwriter from Lahore and is currently working on his debut EP, entitled Caveman, to be released later this June. His songs are a reflection of his experiences through life in love, tribulation, loss and pain. At Retro Vibe, he played a set of 14 original songs.
On his performance at Retro Vibe, Ammar Farooki said; "It was great returning to Riot Studios to play a gig for old and new friends from Lahore. I have performed at the venue in March last year and Riot Studios has always felt like home to me. Especially because I'm producing songs with Farhad Humayun for my upcoming EP. We even had a fun jam after the show with some of the best musicians in the country and I can't wait to be back to play more shows like this in Lahore. I would like to thank Riot Studios, Native Rock, Oye Hoye, and especially all the people who came out to enjoy the music, for making such a magical night possible."
On Native Rock's collaboration with Oye Hoye, Uzma Rao said: "I am thankful to all the people who attended the show and made it a memorable evening and especially the Oye Hoye team in believing in our project and agreeing to collaborate with us. We look forward to working together in the future and translating our vision for music together in Pakistan. It is heartening to see music industry grow from strength to strength in our country and I hope to see Native Rock be an active part of it."
Oye Hoye is a youth centric brand which believes in providing opportunities for young Pakistanis to excel. Native Rock is a public relations and artist management company that specializes in Music. The company's focus since its inception in 2016 is to promote music in Pakistan and foster young talent and provide them the opportunity to reach out to a wider audience. "The Retro Vibe" is a collaboration between the two companies who share the same vision in Music.
your comments: