The year 2017 has begun and you haven't partied yet?
Join us on this 30th (January) and let the BHANGRA KING lift you up as we are proud to announce that Concordia Colleges in collaboration with PMR & HALLMARK INTL. Presents the international Desi Sensation "RDB"#therealrdb in Lahore.
The show is going to be a massive steal as Umar Imtiaz – The Youth Heart stirrer will also be setting fire on stage!
www.facebook.com/umarimtiazofficial
Along with RDB and UMAR IMTIAZ we have got a list of super talented artists,
– BILAL HAIDER
www.facebook.com/BilalHaiderbh/

– ARSALAN HASAN (Nescafe Basement fame)
www.facebook.com/arsalanhasanofficial/
– YASRAH HASEEB (Nescafe Basement fame)
www.facebook.com/YasrahHaseebOfficial/
– THE SHAH'S BAND
www.facebook.com/TheShahsBand/
– OMER AND MOBEEN
– PUKAAR BAND
– AHSAN FAROOQ
www.facebook.com/realahsanfarooq/
– KASHIF SAAEIN – DHOL PLAYER (Nescafe Basement fame)
– DJ Bilz
Don't miss out! This is going to be the biggest music parade ever!
FOR Info and Sponsorship:
0331-4158696 | 0345-4114167 | 03229999867
For Tickets and Queries:
0334-9938979 | 03344495609 | 0345-4114167 | 0322-2241125 | 0321-4397628
Buy the tickets only from the above mentioned numbers.
*The management reserves the right to refuse entry*
Event Powered by: PMR and Hallmark Events Dubai & Pakistan
http://www.pakmediarevolution.pk/ | http://hallmarkmediaservice.com/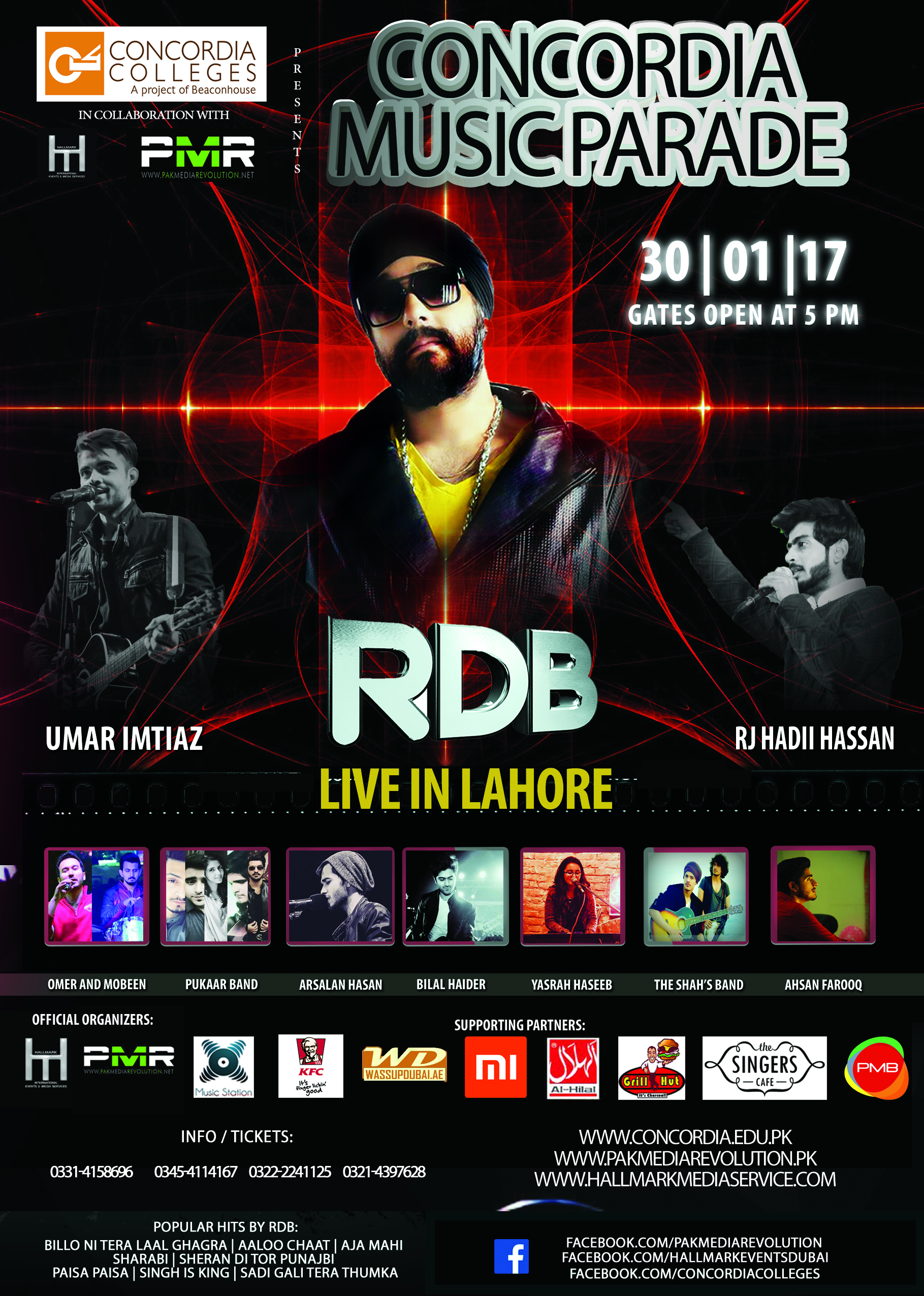 #ConcordiaMusicParade #Concordia #PMR #HallmarkIntlEvents #RDB#THEREALRDB #ASLIRDB #CMP17
your comments: