Burka Avenger Partners With Fun City To Raise Funds For Education
Burka Avenger in partnership with Fun City hosted a Meet & Greet session with the cast of Burka Avenger on Saturday, December 10, 2016. The event was organized to promote the local entertainment industry and raise funds for education. Pakistani superstar and Burka Avenger creator, Haroon and the team made a special appearance.
The event started with a screening of one of the episodes of the Burka Avenger series and was followed by a meet and greet session. Children and parents alike enjoyed the event and participated in the activities including singing, quiz competitions and even a dance off.
Pakistani superstar and the creator / director of Buka Avenger said "Myself and the Burka Avenger team are very excited to collaborate with Fun City. Burka Avenger is a Pakistani superhero and the most watched children's TV series in Pakistan so it is only fitting that we partner up with Fun City which is Islamabad's number one children's attraction."
Burka Avenger is Pakistan's first ever full length animated TV series. The series has won multiple international awards and accolades (including International Emmy Nominee). Recently, the brand launched its own merchandise line which is available in stores across Pakistan and online. Burka Avenger products are also available for sale at Fun City all December. For every Burka Avenger action figure sold, Rs 100 ($1) is donated to The Citizens Foundation (TSF) to help educate Pakistan.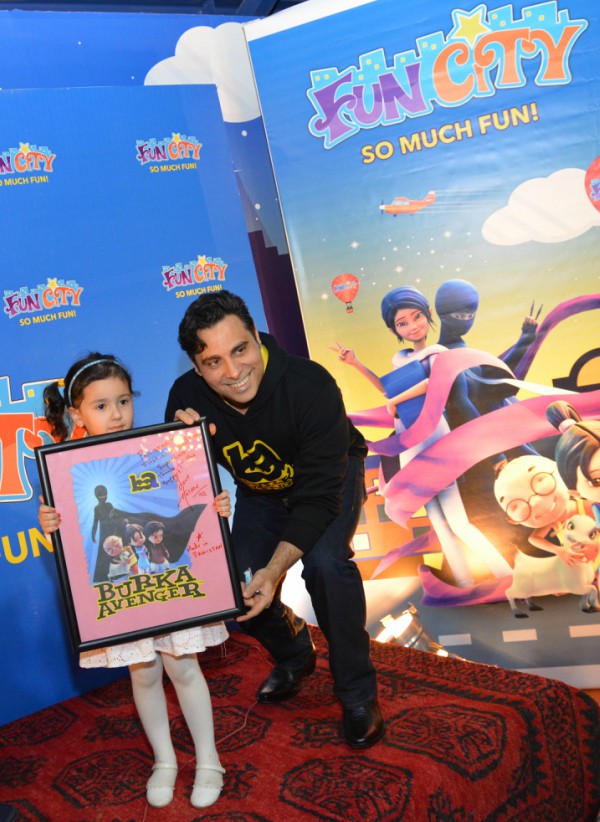 Tania Arandia (Deputy Marketing Manager) at Fun City said. "Fun city is your number one source of entertainment in Islamabad. We are the first indoor family entertainment center of its kind to open in in Pakistan. We are the leader in the local market and are expanding. We strongly believe in promoting the local entertainment industry and supporting the less fortunate community. We've partnered with the Burka Avenger team to raise funds for education with a twist of fun."
A special auction of Burka Avenger picture frames signed by Haroon himself was also conducted. All proceeds from the auction were also donated to The Citizens Foundation (TCF).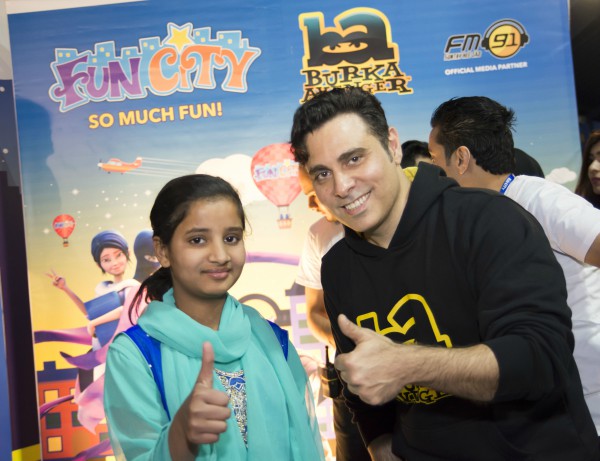 A representative of The Citizens Foundation said "TCF remains committed to the cause of education. It is a movement that needs ardent supporters like Burka Avenger because only education can pave way for a brighter and progressive Pakistan. As more and more supporters join us, each one marks a victory of education over illiteracy and deprivation."
Burka Avenger is Pakistan's first ever full length animated TV series developed by Unicorn Black in Islamabad, Pakistan. This multi-award winning show features Jiya as the inspirational school teacher and her alter ego, the super-heroine Burka Avenger. Her use of books and pens as projectile weapons is symbolic on many levels. Burka Avenger fights for Justice, Peace and Education for all.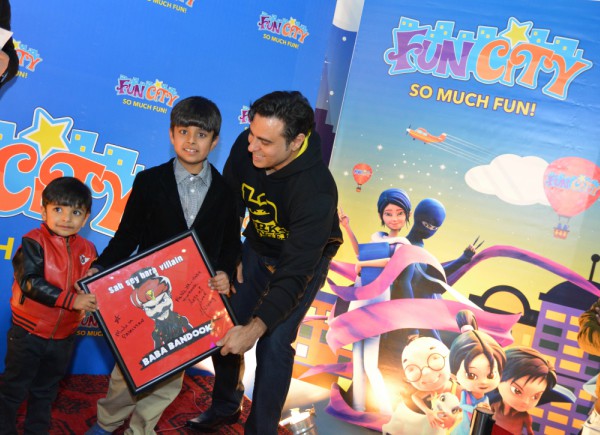 The series initially launched in Pakistan in 2013 and instantly shot to worldwide fame and is currently airing, and is the most watched children's show in Pakistan and Afghanistan. No other TV or film production in the history of Pakistan has garnered as much international attention and recognition. Time Magazine named Burka Avenger as one of the most influential characters of 2013. The series has also been successfully launched to great success on Zee network in India.
Major Awards and Accolades won by the show include the following:
Peabody Award Winner  Link
Int'l Emmy Nomination  Link
International Gender Equity Prize at Prix Jeunesse Link
Asian Media Awards: Best TV Show  Link
Canada International Film Festival: Rising Star Award Link
Award of Merit – Accolades Global Film Competition Link
Best Animation (Int'l) – LUMS Int'l Film Festival
Time Magazine: "One of the most Influential Fictional Characters of 2013" Link
your comments: