Bilal Saeed and Sabeeka Imam drop hints about Chaskay on their IG Stories
In 2011, Ishq Beparwa was Bilal Saeed's debut as a musician. After taking desi music enthusiasts world wide by storm with Ishq Beparwa, there was no stopping him. With back to back chart topping hits and various award nominations in Pakistan, India and UK; Bilal Saeed has established himself as one of the leading names in Punjabi pop.
Bilal Saeed has given hard to forget tunes like Adhi Adhi Raat, Ku Ku (Tu Meri Janaa), Khair Mangdi for Bollywood film Baar Baar Dekho starring Sidharth Malhothra & Katrina Kaif, La La La for Bollywod film Baazaar starring Saif Ali Khan, Tere Bina for Bollywood film Heropatni starring Tiger Shroff and Kriti Sanon.
Collaborating with artists like Bohemia, Shortie, Dr.Zeus, Young Fateh, Neha Kakkar, Roach Killa, Amrinder Gill, Hannah Kumari Bilal Saeed has chart bursting numbers. Thats not all, Bilal Saeed has composed numerous hit tunes like Desi Thumka for Nouman Khalid & Osama Com Laude (OCL), Teriyaan Ve for Amanat Ali, Hunjoo for Sadia Khan, Tere Bina with Mustafa Zahid on the vocals for Bollywood film Heropatni.
Sponsored Video:

Baari is Bilal Saeed's latest hit. Also featuring Momina Mustehsan on the vocals, Baari is written, composed, directed and sung by Bilal Saeed. Baari was released via One Two Records and bagged a whopping 1.5 Million views in the first 24 hours of its release. Trending straight for 34 days on Youtube, Baari has 62 Million Plus views in less than three months.
Also Read: 8 year Kimaya Massey's Bella Ciao rendition will cast a spell on you
Musician Bilal Saeed & Model/Actress Sabeeka Imam have been intriguing fans with back to back cute stories on their Instagram's.
These posts came right at the time when Bilal Saeed announced collaboration with Roach Killa followed by a 'releasing soon' poster of his upcoming single 'Chaskay'
View this post on Instagram
Sponsored Video:

With no release date mentioned this is all we know about Bilal Saeed's Chaskay so far:
The poster was released with text that said "WARNING!! MAINTAIN THE QUARANTINE… Enjoy your time away from friends and extended family with Chaskay. Thus making it a quarantine special.
Bilal Saeed is collaborating with Canadian rapper Roach Killa for Chaskay. Chaskay thus makes their second collaboration. Bilal Saeed and Roach Killa first collaborated in 2014 for "Lethal Combination", which after its release topped BBC Asian Charts.
Interestingly enough Sabeeka Imam features in the music video.
Chaskay like Bilal Saeed's previous single Baari, will be releasing only on 'One Two Records'
Over the last few days, Bilal Saeed and Sabeeka Iman have been sharing Instagram stories where the fans now after the release of the poster are divided, with many convinced there is something romantic between the two, while others say that this is a promotion for Chaskay The music video is Bilal Saeed's first release since the government imposed quarantine in Pakistan. The singer/musician was seen going live on his Facebook page earlier this month, followed by a live performance for the mobile brand. After the massive success of Baari, Chaskay is a much awaited release!!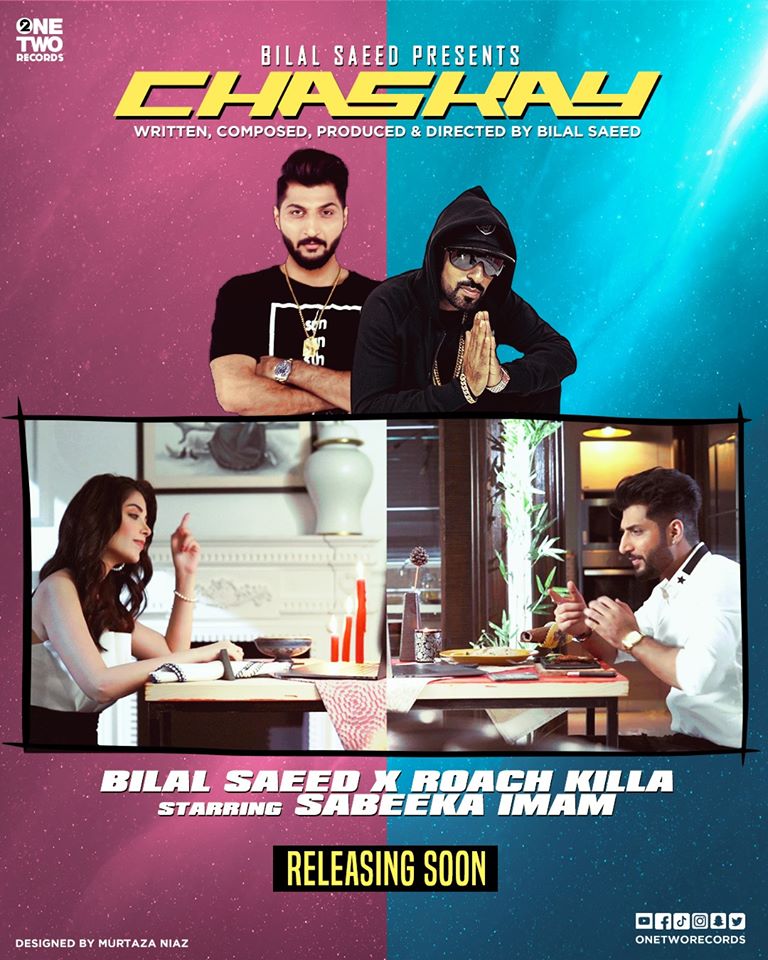 your comments: