What an awesome anthem!! We can't get enough of it #Xulfi, has proved yet again with Hum Aik Hain – Coke Anthem that in music, there is always room to push boundaries!
We're extremists in joy, celebration, hope and prayer and that's what makes us #ExtremelyPakistani!
Iss parcham ke saaye talay #HumAikHain.
Watch as #Xulfi and his team unearth novel instruments that have evolved in isolation in all parts of our rich country, Hum Ek Hein, the largest culturally rooted orchestra ever featured in a song in Pakistan!
Xghini, Suroz, Daamal, Dadang, Surando, Tutek, Surnai, Balochi Banjo, Esraj Dilruba are few of the instruments that feature in this spectacle. How many of you have heard the names of these?
This is probably the longest musician list and the largest culturally rooted orchestra in any song. Don't be surprised when you read unknown instrument names. These are pride of our country and the people playing them are our heritage. Sit back, relax and read on.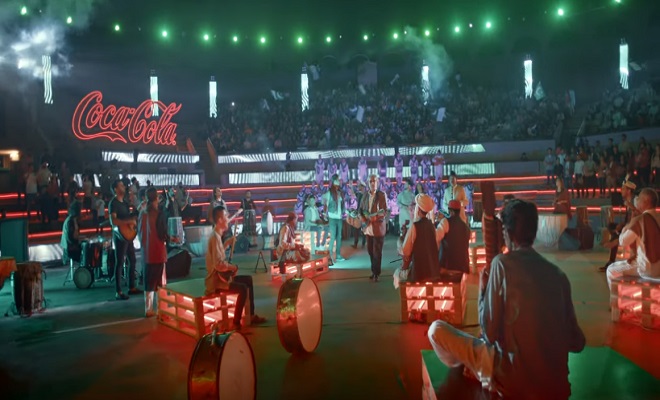 ESRAJ DILRUBA
Ishaq Noni
SARANGI SECTION
Akhter Hussain
Zohaib Hasan
Muhammad Taimur Khan
Gul Muhammad
Ali Zafar
CHIMTA
Ejaz Lohar
XHIGINI
Zia Ul Karim
SURNAI AND TUTEK
Akmal Yaqoob
DAAMAL
Arsalan Haider
DADANG
Waji Ullah
SAROD AND MANDOLIN
Ustad Tanveer Tafu
CLARINET
Ustad Jaffar
CABASA, TIMBALE SNARE, DJEMBE,OCTABANS, CAJUN, OZONE CRASH, TAMBOURINE
Kami Paul
ACOUSTIC GUITAR
Haroon Leo
BEEN AND PAKISTANI FLUTE
Akmal Qadri
SURANDO
Muhammad Hassan
SUROZ
Ismail Noori
BALOCHI BANJO
Mohammad Ibrahim
DAMBURA
Jamil Ayan
ELECTRIC GUITAR
Sherry Khattak
ENGLSH FLUTE
Nazar Abbas
CHOIR
Sacred Heart (Roshani Kotigala) Surtaal Academy (Zia Ul Haq), Sana Khan Mamdot
KICK DRUM, TOM DRUM, JAM BLOCKS, SHAKER
Bilawal Lahooti
BASS
Omair Farooq
Sitar
Ritika Dhaja
Muhammad Effendi
DHULYA AND DHULARA
Zulfiqar Jabbar Khan – Xulfi
LEAD VOCALS
Adnan Dhool (Soch)
your comments: