Unique in concepts and style, Yasir Akhtar is always miles ahead from other big names in the industry.
The roaring success of his previous single 'Sansani-The Sensation" can be accounted by the fact that it scored almost 6 million views.
After creating a niche for himself in Pakistan, this trendsetter has launched many successful projects one after another in the United Kingdom.
The multi-talented star, Yasir Akhtar strikes again with his brand new song "Araam Naal Kar – Take it Easy" based on Bulley Shah's poetry featuring Martay Mckenzy. This latest massive production was released on 29/01/17 has already captured the hearts of millions around the globe in mere three days.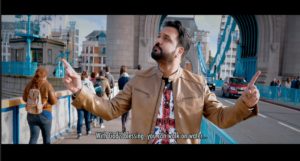 The track is a brilliant fusion of Hip Hop with a Punjabi folkish tune. Yasir's powerful vocals resonate through his own composition and does complete justice to Bulley Shah's poetry.
As far as video is concerned, Yasir has dazzled us all by playing a double role; a philosopher and an antagonist, embedded in an abstract concept with a vivid storyline. The dual characters played by Yasir Akhtar depict two different lines of thought in our society, i.e. spiritual philosophy and materialism.
The concept revolves around a modern philosopher roaming around the streets of London singing Bulleh Shah's poetry and explaining the concept of surrender to the antagonist.
The talented female artist from London, Martay, is shown to be mocking the poetic lines of the philosopher in favor of the materialistic mafia king. A drastic turn in the storyline can be witnessed where the philosopher finally manages to convince the audience finally changing everything.
The music and the visuals of 'Take it Easy' are an amalgamation of various styles and genres. Yasir Akhtar says, " It's a different sound because I have tried to mix Punjabi Music into Hip Hop with live instruments like Sarangi, Harmonium, Tumbi with electronic instruments. It's a blend of east and west with a folk melody and English rap. The concept of the video covers almost all major cultures and styles living in the United Kingdom. It has a multi-cultural look and sound. "
Furthermore he added,
'It was quite a difficult task to find a good female rapper, I went through so many 
portfolios and auditions. Finally, I found Martay MKenzy from London who fitted like a glove
into this project. She has a wealth of experience in singing and rapping
with power house vocals, undeniable screen presence and an intrinsic ability 
to rock". Moreover he explains that he has written the lyrics for chorus and the English rap although main poetry is by Bulleh Shah.
Yasir has chosen some special verses of the great Shah's poetry that expresses his experiences since childhood in the field of music and entertainment industry especially the lines given below;
I have seen the rising sun set…I've seen the unlit lamps lit…Diamonds and stars are priceless, but I have seen the useless coins turning into precious ones.
The video is shot at some of the most beautiful locations in London, including Trafalgar Square, theTower of London, Buckingham Palace, the London Eye, Lambeth and Southall. " I am deeply thankful to the team behind SK Media consisting of Shaista Iram Zahid, Zahid Hamid and Kamran Hamid for joining hands with me and making this a successful project in every way."
In addition to this, Yasir added,  "I have written the rap, composed and fused the poetry of the great Punjabi philosopher used in this song which explains that ' within a dot, a whole mystery is solved. So we, the created, are not different from the Creator. We the lovers, are not separate from the Beloved. It is this unity of being and existence that is one and can be reduced to one little Nukta – a dot – that has all the answers and comforts we spend our lifetimes attaining. The Point or Dot is the starting point of anything or everything."
The song is composed and produced by Yasir Akhtar, music is given by musical genius Jo-G. Additional musical arrangements by Sher Abbas. Other artists appearing in the video are Asli Baharaan Punjab Diyan, Naina Safar – Chandni and Sonia Mobashir. The characters look promising and well suited according to their roles.
The music and the visuals in this song will remind you of Yasir Akhtar's earlier hits like Kabhi to Hoga Mera milan, Chandni, Aey Sanam, My Love, Jogi,Terry naal Dil Milea, Zara Man ko Dekhna, Sansani and his popular musical band 'The Arid Zone'.  The multi-talented star has a history of making popular songs and trendsetting film productions. 'Araam Naal Kar-Take it Easy' is another feather in his cap.
your comments: