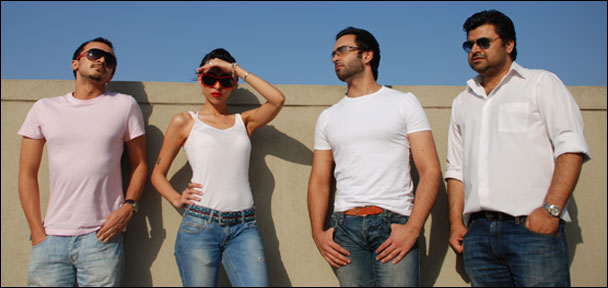 The A to Z of 2009
Instep takes a quick look at the year that was 2009 as we welcome the New Year…
By Amar Ayaz, Amina Baig and Maheen Sabeeh
A for 'Aik Alif'
'Aik Alif' brought Noori back in the spotlight with the great Saeein Zahoor. It remains the best collaboration of the year with Saeein's deep vocals, Ali Noor on a musical quest and Ali Hamza singing words of hope. At a time when Pakistan is going through constant mayhem, 'Aik Alif' sends the right message: Look within. And we all did. Bravo!
E for EP comeback
Remember eight guys banging their heads onstage while playing their instruments? It was the merger of Entity and Paradigm – two separate acts – as one that became EP back in the early 2000s. With an excellent debut album to their credit, the alternative rock act ultimately split; films, television, other bands, etc. Earlier this year, EP announced their comeback. The new line-up includes Fawad Afzal Khan (vocals), Ahmed Ali Butt (vocals & keyboards), Hassaan Khalid (rhythm guitar), Salman Albert (lead guitars), and Waqar Khan (Drums). Whether or not Xulfi's absence is felt in EP's second album – currently being worked on – remains to be seen but from the way EP have been performing (Youtube their recent gigs), it seems this rock outfit is ready to shake things up again.
H for Hamza, Ali (Noori)
We prefer calling him Hamza. There are way too many Alis in the music industry. Since the launch of Suno Ke Main Hun Jawan, the man in the limelight has been Ali Noor. 2009 belonged to Ali Hamza; it was his coming out party (no, not that kind of coming out). At Coke Studio Ali Hamza displayed his versatility by playing the banjo on both Saeein Zahoor and Noori's song 'Aik Alif,' Saeein Zahoor's 'Toomba', and also on Ali Zafar's 'Yaar Dhadee', with a tremendous feel for the instrument. He then surprised most people as he released a naat, 'Madinay Mein', which showed Noori fans the power of his voice.
J for 'Jaan Jaye'
'Jaan Jaye' came, ran on the radio, got downloaded via the Internet and generally became an instant hit in 2006. In 2009, the 'Jaan Jaye' video came, aired on TV, got YouTubed like mad and became an instant hit. A fun, funky video for a fun, funky song – there was no way this could go in another direction!
P for Pichal Pairee

While many musicians wait for their albums to release, Overload took the game to the next level by releasing their second album, Pichal Pairee on their website, where fans can download it for free. And Pichal Pairee comes with its share of psychedelic rock, dhols, thumping percussion and soft keyboards with vocalist, Meesha Shafi in tow. Pichal Pairee, the record, is experimental to the core, tripped out and a more refined effort from the musical outfit that is Overload.
Q for 'Qismat Apnay Haath Mein'
If 'Aik Alif' is the song of the year, then in the same vein, the video of Shehzad Roy's 'Qismat Apnay Haath Mein' by Ahsan Rahim is the video of '09.
From Guantanamo Bay-like detention facility to the aggression of prisoners, the plight of load-shedding to the tongue-in-cheek and sarcastic lyrics, it's a full-on winner. The issues raised in this video are very real and hit close to home. Like 'Laga Reh', the video is hilarious but its not preachy.
R for Rohail Hyatt
While the music industry, much like the rest of the country, suffered through economic recession, political upheaval and more, Rohail Hyatt brought Coke Studio to the forefront. Known as 'Pa' Hyatt on the sets of Coke Studio, it was Rohail who turned the initial idea of Battle of the Bands (long before Coke Studio launched) into Coke Studio. And this year, with little musical activity, Coke Studio is still alive in the minds of music aficionados, thanks to Rohail Hyatt.
X for Xulfi (Call)
Xulfi has had quite a year. After 2007's monumental hit, 'Laaree Chootee', Call arrived in Bollywood. Two years later, Bollywood came knocking on Xulfi's door. And he answered. In 2009, Xulfi managed a double whammy. First there was Bolly flick Aasma – The Sky is the Limit, which featured Xulfi as a singer and lyricist. And then there was Aftab Shivdasani's Aloo Chaat. Xulfi composed the tunes ('Kuch Aisa' and 'Reh Jaane Do') himself, penned the words and sang both tunes for the film. While local critics and die-hard Call fans may bash him for selling out to the Indian sound, Xulfi is adamant that Call's next record, Dhoom, will change minds.
Y for 'Yaar Dhadee'
Ustad M Jumman's classic hit went through a musical makeover at Coke Studio this year and boy, what a version it is! With Ali Zafar taking on the mic and showing off his skill as a playful yet poignant singer and with a mesh of seasoned players ranging from Gumby to Javed Iqbal, Omran Shafique, percussion masters Babar Khanna and Waris Baloo among many others setting the soft, melodic musical structure, this re-done version has ultimately introduced a new generation to a phenomenal classic.
Z for Zeb and Haniya
Amidst all the turmoil that Pakistan has faced in recent times, one of the most refreshing developments has been the projection of Zeb and Haniya onto our music scene. Soothing vocals, melodic tunes and poignant poetry seems to be the perfect medicine for the disease of destruction that our country faces. Their appearance on Coke Studio and the release of their debut album Chup has clearly put them amongst the stars of our industry. The mix of jazzy tunes with bluesy beats, sprinkled with the language and culture of Pakistan make Zeb and Haniya worthy representatives of Pakistan on the world music stage.
link: http://jang.com.pk/thenews/dec2009-w…/mainissue.htm
your comments: