Ali Azmat, Salman Ahmed and Brian to reunite as Junoon
Late night, Ali Azmat's socialmedia team updated a status on Ali Azmat's Facebook; asking his fans and followers if they want see Junoon to reunite with the original lineup; that is it is with Brain and Salman Ahmed.
To which ofcourse everyone commenting replied in an affirmation.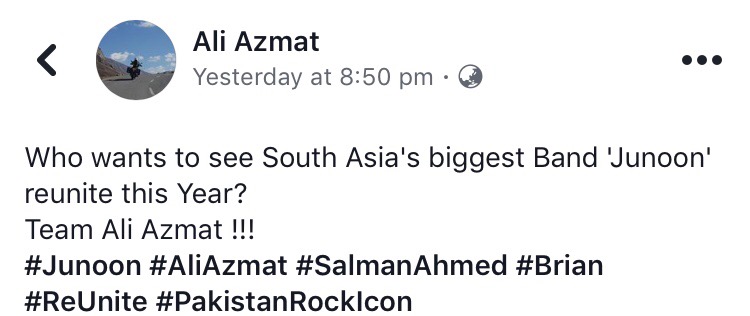 Junoon debuted in around 1991, their first album was like everyone recalls a miserable flop. It was in 1993, when Junoon had Talaash and Nusrat Hussain replaced with Brian O'Connell, did Junoon manage to stand firmly on their feet as Band.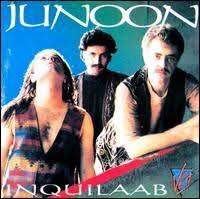 It's the hits like Mera Mahi and Jazba Junoon, from Junoon's album Inquilab in 1996 is what actually the Junoon fans still remember. Inquilab is the album, that gave Junoon their due recognition as a mainstream band.

Following Inquilab, Junoon released Azadi in 1997. With songs like Sayone and Yaar Bina, Junoon broke big not only in Pakistan, but also in India amongst the Indian rock pop lovers.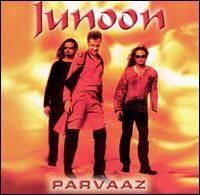 Paravaz in 1999 had super duper hits like Bulleya and Ghoom. Ghoom was the Kashmir movement song and one has to agree that the lyrics and tunes of Ghoom were really intense.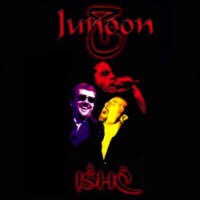 Ishq in 2001 was a complete bore, so let's not even talk about it.
In 2004, Junoon came out with their album titled Deewar. The only two songs that probably still matter from that album are Garaj Bara and Tara Jala
This was hence the bands last album. Salman Ahmed had always been the driving force of Junoon, and he seemed to be as if exhausted, and drained with no creativity left in him. Brian was back then stuck with problems of his own. Ali Azmat hence was heart broken and bitter. It was no surprise that Junoon soon after Deewar brokeup.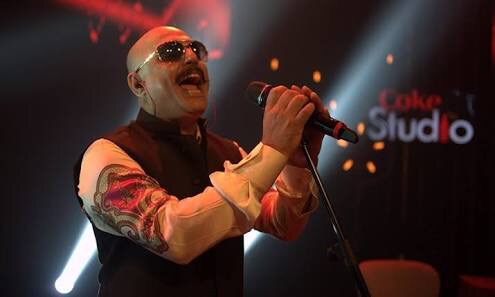 Ali continued to do music. Garaj Baras was featured in a Bollywood film. Ali Azmat was featured in Coke Studio too. He did Pepsi Idol, concerts with Red Bull. Music really was never over for Ali Azmat.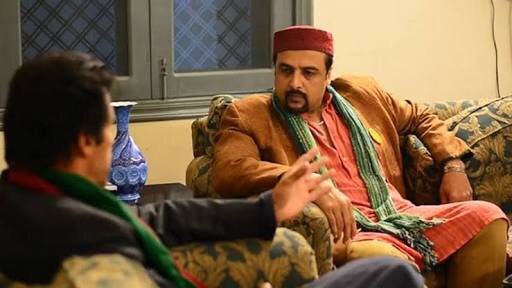 Brian was never heard of doing anything in Pakistan and Salman Ahmed kept on popping here and there in interviews, and then latter along side Imran Khan supporting his political movement in PTI in his rallies and in his Bani Gala Mansion.
During these years, interviews published, blame game started. It was evident that no one was happy about Junoon not being Junoon anymore, yet no one was ready to take the blame for himself.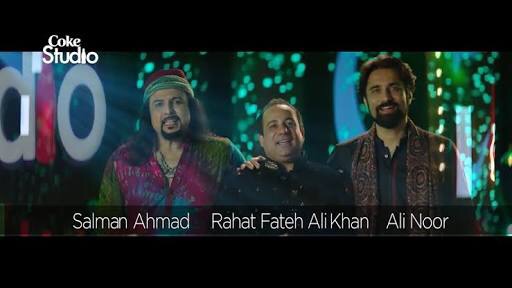 Though in Coke Studio 10 Salman Ahmed tried to prove that he is JUNOON and the existence of the rest of the band members doesn't matter. He did Sayoone and Ghoom both of which almost costed his fan following.
READ: Sayonee—A song already perfect, now ruined by Coke Studio
your comments: