KAKY THOU$AND ft ASIF BALLI – Apna Dour Aayega
"Apna dour Aayega"
PAKISTANI FIRST LITTLE RAPPER – The eight year old Pakistani rapper 'Thou$sand Kaky'
Waqas Baloch from Lyari aka Kakay Thou$and is killing the game with Apna Dour Aayega.
Rapping has always influenced the younger generation. Kaky Thou$sand, a 9 year old kid is not waiting to get older to pursue his dreams of becoming rappers, so he his getting a head start right now.
Also Read: Young Stunners & KR$NA diss their haters with Quarantine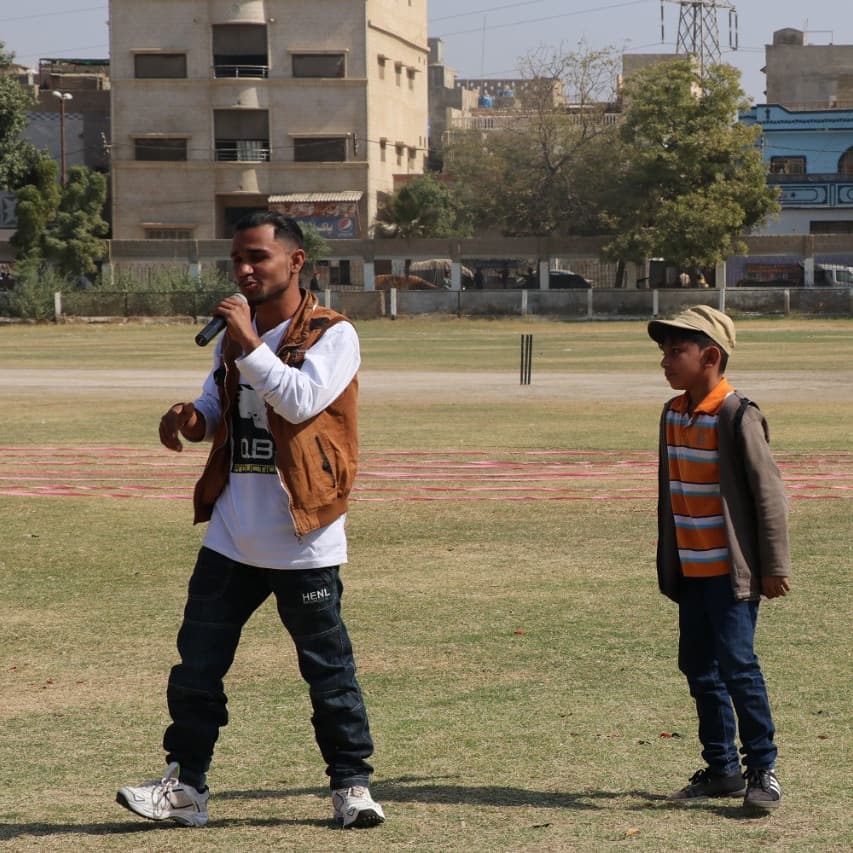 Sponsored Video:
Kaky Thou$and has had a huge support and encouragement from his elder brother Asif Balli. Waqas Balock aka Kaky Thou$and has been practicing how to rap since he was five. Both Kaky Thou$and and Asif Balli are big fans of Bohemia.
Watch Video:
Artist: KAKY THOU$AND ft ASIF BALLI
Rap: Apna Dour Aayega
Prod BY Abdur
Mix Master : Osama Ali
Director by Qbaloch QB
Dop & Edit : Qbaloch QB
Speical thanks
Sherri baloch : Sakir baloch
Basham baloch : Zaib baloch
Noman baloch : Noshad ali
LYRICS:
Thou$and lyrics
been he band q k tokri me ?saamp nai he.
Mein supper se bhi uper hone Wala star hu Bhai .?
Mic? pakar k batain 4 ker ke .
Stage ko mein Hiladunga .
Mera rap ker ke.?
5 se 6 kabhi 7 se ley 8 tk .
Nalo me ?Pani nai ye Karachi me shart sub .
Mujhse ker bat ab .♣
mein Tera Baap ab .?
hum he Baloch Saab .?
Muh py kerte Bat Sach .☠
Sach se humain na Der lage .
Thou$and he aisi bala .
jiska koi Hal na dey ?
kerunga Freestyle
chahey koi beat dedey .
mein Sunta Busta Rhymes
Agg? Mera Flow pheke .
mere ?mobile me dekh .
na sunta Rapper koi fake .
mein bana rap k liye hi .
Mera Age na dekh .
Bola tha aunga back .?
or dekho Laya hu track .
Karachi Wala Game on huwa
Agay to dekh .
Ainnnnnn !.
Agay to dekh mein kese kerta scene on .
mujhe na samaj Nody Khan .
mein hu sing Tod ?
Baki yaa kon kon rap janta he .
Jo rap janta he wahi janta he mein hu kon.?☠
Asli Dhoon se dekh abhi tu nahayega .?
mehnat kerega to rang Asli Aeyga .
Baki gayega Pura lyari gayega .
1.2.3 mere sath bolo ab Kiya ?.
HOOK 2+
Apna time nahi apna Duor Aayga .
Ghehdi ko na dekh kuch na ker paega
chup bhethega to kese shor aeyga ?
time nahi ata khud hi Lana perta.
ASIF BALLI Lyrics
Lana perta he time apna khud .
gher py bthega to kese kerega kuch
muft me tu chahta he mile sub kuch.
kamiyabi ati nahi chal k beta khud
suna hoga tune atta dukh k bad sukh
khate huwe bhi sumjhau
ye he Mera look .
Jangli Pana samaj
Ya samaj chahe kuch
Aj Kal k rappers Akhhh Thoooo.
Nishane Haider Wala
Rashid minhas mein
urta Chilta chil .
jaise Nazer ho sikhaar py .
full khaar me rapper ko cheel de .
hum he lyari wale .
pure Karachi ka Dil abay .
khare Kil Py per rakh k chalna sikha
7 saal ki Umar me pehna pehla juta
tez barisho me Bina chhat soke sikha
Jo mene sikha bure Halaat ka he natija
khudko na samaj Kem .
tujme bhi huner he .
us se nikaal bahar Jo Tere Ander he .
werna tu banjer .
Asli bante dum per he
mein Tipu Sultaan
or Kalam Mera Khanjer he .
Hain Karachi bole beta khoon day.
Nakli Bhot door .
beta Asli ko bhi bhoon de
per mein jaise moon py
bhetha hu sakoon se .
mujhe wo sikhane chale .
Jo he khudi dood py .
jaise mein teer hu kamand py .
Mehnat se pohchega mukaam py .
mot ka pata naiye kab aye .
Faida utha apne Jan se .
Jan k Kil ko Ulta mat thok
Dil ko rakh tu saaf .
werna khudpy he tu boj .
mehnat kerega to mile
Taliya bhi bhot .
agay Wala hook
mere sath me tu bol Kiya .
HOOK. 2+
apna time nahi apna duor Aayga .
gheri ko na dekh kuch na ker paega
chup bhethega to kese shor aeyga .
time nahi ata khud hi Lana perta .
your comments: