Rafi Peer Puppet Fiesta held at Packages Mall – A Tribute to Pakistan's Cultural Heritage
Packages Mall held an exclusive specially curated puppet show in collaboration with Rafi Peer Theatre, with a delightful display of music, puppetry and crafts, where prominent bloggers, socialites and key media personnel were in attendance along with their children. This activity, which was dedicated to promoting folk arts and crafts in the country and spreading awareness about them, offered the attendees the unique opportunity to watch and enjoy contemporary as well as traditional puppet shows and bring together great performances and an overall wonderful experience for children and families.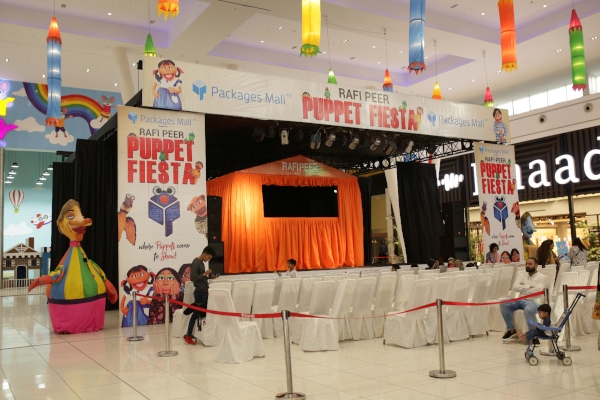 The Puppet Fiesta played a paramount role in bringing the rich cultural heritage of Pakistan back to the mainstream audience, in a way that transcended generational divides and demographic differences. Since children all over the city are on their spring holidays, it is the perfect time for all such events to take place so children can not only enjoy themselves but also spend their days productively. The Puppet Fiesta was a breath of fresh air and a one of a kind activity, which not only provided children with great entertainment but also gave them an incredible educational experience where they got to learn about the heritage of our country, and this classic art form in an extremely interesting and interactive manner. Said extravaganza was an eventful celebration of cultural performances from all over Pakistan, boosting talented local and international puppeteers, puppet workshops and colourful parades featuring the mascots, bringing this traditional art form back to life in full swing. It was a real visual treat set right at the heart of Packages Mall, with streamer canopies, uniquely envisioned life-size puppets and a bewitched crowd full of wide-eyed children and curious adults.  
Mr. Shahzad Anwar, who is the Marketing Head of Packages, said "The Puppet Fiesta is going on till the 31st of March and is an incredible opportunity for today's generation to experience Pakistan's cultural heritage in an extremely enjoyable manner, with lots of learning too. We're really glad that we could do something that was entertaining for kids and adults alike, bringing entire families together."
your comments: