Art can be considered the single richest phenomenon that distinguishes different aspects of a culture from each other, as well as differentiating it from other cultures prevalent elsewhere in the world. Art is a broad term, and it usually comprises sub-classes including painting, sculpture, music, dance, poetry, calligraphy, performing arts, and other forms of visual art. Thus anything which translates the human emotions or norms of a particular genre or era through the use of expressive mediums like colors, sound, words, and movement; can be classified as art.
Jewelry is a beautiful form of art, it just happens to be art that is so portable that we can carry it around our little finger or dangle it from our ears or wrap it around our neck. Of course, I'm not talking about mass-produced jewelry bought at discount stores. That stuff did start out as art at some point but became grossly cheapened, in my opinion. Beautiful jewelry like mood rings has the power of making the wearer feel more beautiful. If I could wear a perfect painting of a gorgeous sunset, I would. I can't, so instead, I'll wear a necklace that evokes that same beauty.
It is refreshing to find out that the ancient art of handcrafted jewelry did not die with the industrial revolution. Since 2012 Keepsakes by Reem, a socially aware designer jewelry brand hailing from Pakistan is keeping the hope kindled, their offering are creative, elegant and traditionally rooted. Pakistan is a country having roots in the historic culture that dates back more than 5000 years and contains reminiscences of the Indus civilization.

The craftsmen and artisans are attached to their designs with so many emotions. Beauty, commitment, loyalty, love, remembrance and countless other emotions. There could be a lot of stories attached to a single design.
The process is pretty amazing as well, precious gems and metal require more planning to create the desired piece. Considering the wide variety of concerns, from color and styling to the cost of materials everything must come together. The design and it's limitations are all up to the designer. While craftsmen execute them with the best of his abilities.
In recent times due to the magic of advertising, diamonds are now believed to be the rarest of gemstones. One simple example will help put that into perspective: How many women do you know who don't own at least one diamond? Having said that, rarity is one of the most prized qualities of gemstones and while designing jewelry with such gemstones, designs are mostly kept simple, which draws the attention towards the gemstone.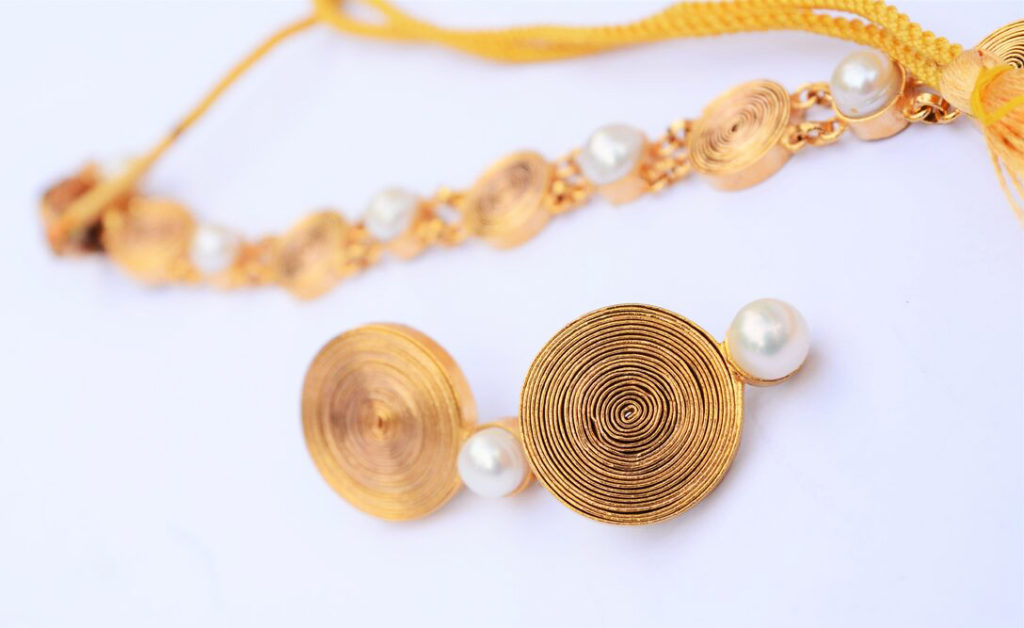 Reem believes that generational poverty ends when people are able to provide for themselves and that empowering women uplifts entire families and communities. Her brand is doing incredible work to sustainably end cycles of poverty within some of the most disadvantaged communities by empowering artisans and persevering traditional crafts. Keepsakes provides fair wages and full-time employment to their artisans and each piece of jewelry carries the heart of every person involved in its creation.
The brand is committed to providing girls education and is supporting a school in the remote areas of Kashmir. It's is a shelter home and a school for girls. Reem didn't stop there, she is also working closely with Pink Ribbon Pakistan for the breast cancer awareness. They had a special jewelry collection dedicated to Pink Ribbon Pakistan, whose profits go to cancer awareness campaigns throughout the country.
The brand aims is to develop beautiful pieces of traditional art ensures that everyone – from the first supplier to the end consumer – is treated with the respect and dignity that they deserve.
your comments: