Dil Bolay Hai by Wasiq Malik taking Internet by Storm
Wasiq Malik, recently released his debut single 'Dil Bolay'. Dil Bolay is from Wasiq's upcoming album ''Hasrat". Dil Bolay Hai by Wasiq Malik has hit a milestone of 1 million Plays/Views collectively over different digital platforms. The song has trended on major online platforms like Dailymotion, Vimeo and many more. Almost every international music store has released the song, major names among them are i-Tunes, Rhapsody, Deezer, Spotify, Amazon, Saavn and more.
Dil Bolay is a melodious number, narrating the love of a human for his divine creator. Shot in the beautiful scenic locations of North Pakistan, the video is serene and has striking shots of the beautiful mountain range and waterfalls.
The lyrics for Dil Bolay have been penned down by Asim Raza, while the composition is done by Sahir Ali Bagga.
Sahar Ali Bagga is one of the top music directors and composers from Pakistan. Composing music for independent musicians and Pakistani films some of his recent projects include Jawani Phir Nahi Ani, Hijrat, Maalik, Sikander while Balu Mahi, Jeewan Hathi are yet to release.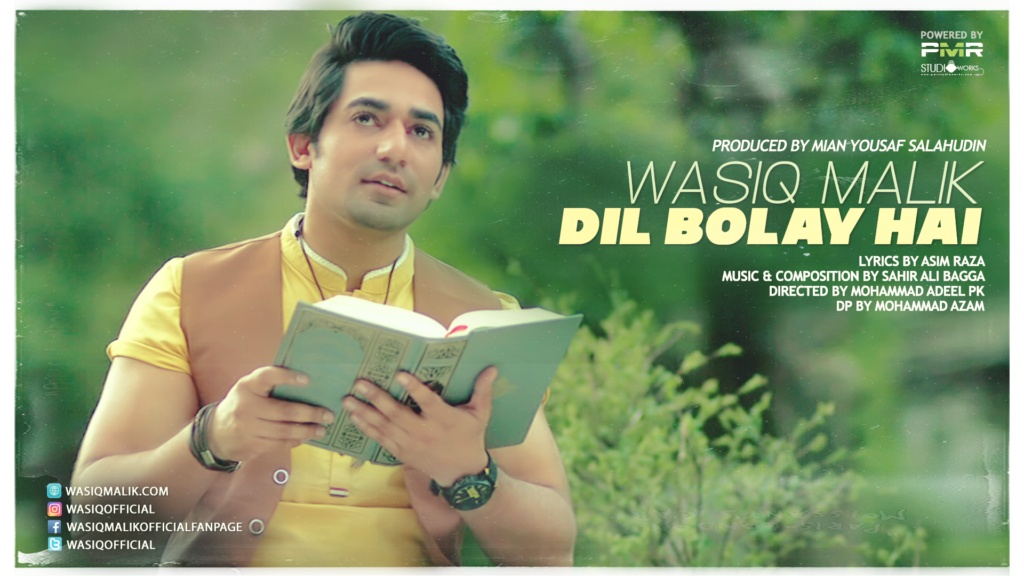 Asim Raza on the other hand is one of the top lyricist's of Pakistan and has penned down so many chart busters for Coke Studio as well as for Rahat Fateh Ali Khan.
The video is produced by Mian Yusuf Salahudin, who too needs no introduction. Mian Salli, the grand son on our national poet "Allama Muhammad Iqbal" as he is commonly referred to, is as well known cultural icon, elite socialite and an extremely successful Philanthropist.
WASIQ MALIK "DIL BOLAY HAI" – LATEST PAKISTANI SUFI SONG from Wasiq Malik on Vimeo.
Despite being an ''Electrical Engineer'' by degree, Wasiq chose to work hard to fulfill his passion for music and singing. Wasiq has professionally learned music, while he completed his degree in Engineering.
''Think of the notes as the letters, the measures as the words and the phrases as the sentences. Learning music really does open up a whole new world. I really want to break the stereotype our society has about musicians and singers. People think when a person can do nothing, he tries his luck with singing. And this really is not true. Making good music and establishing yourself as a musician takes time and effort like any other profession in the corporate world."
DIL BOLAY CROSSED 200K PLAYS ON OFFICIAL FACEBOOK PAGE OF WASIQ MALIK
your comments: