Presenting the Coke Studio house band
They are the players who help create the sound that echoes out of Coke Studio and beams into our homes via television screens, radios and the Internet. These are men and women who may not be in the starry spotlight but without them Coke Studio would be incomplete. Instep gets to know the faces behind the sound…
By Maheen Sabeeh
http://jang.com.pk/thenews/jul2009-weekly/nos-05-07-2009/instep/images/articl3_1.jpg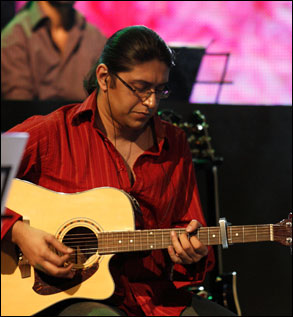 Assad Ahmed (guitars)
Assad Ahmed is a new addition to the house band this year and what a fantastic call to make. His reputation precedes him as a rock guitar giant to be reckoned with but Assad is easily as at home making his acoustic guitar weep gently. "
He is such an exceptional player," says Coke Studio co-producer Umber Hyatt.
"I couldn't do the show last year but this year I could so here I am," he told Instep as Coke Studio was being recorded. Assad Ahmed's name needs no introduction. Coke Studio is the latest for him in a career that spans working with the likes of Awaz, Vital Signs, Sajjad Ali, Najam Shiraz and not to forget, the highly underrated and volatile Karavan, which Assad Ahmed plays guitars for.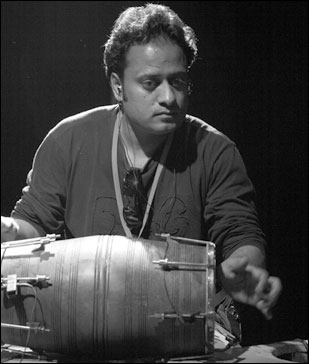 Babar Khanna (percussions)
Coming back from season one to season two, Babar has grown more relaxed as one of the members of Coke Studio house band. His dholaks bring mystery, might and passionate beats that make you tap your feet every time or skip a beat with intensity.
"It is challenging playing with some of the biggest pop and folk artists of our country but I have never seen or been part of something as extraordinary as this place," said Babar while recounting his days at the studio.
Dholaks belong in his family and Babar has taken to it instinctively.
Other than Coke Studio, Babar has played with the likes of Jal, Raaga Boys, Jawad Ahmed, Humaira Arshad and has been awarded by the BBC for his performance with the Shola Music Group.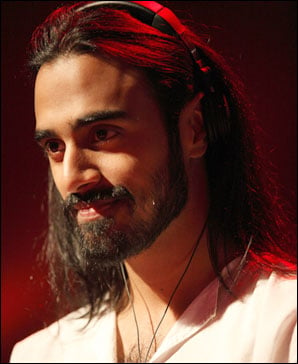 Jaffer Zaidi (pianist)
Jaffer Zaidi made his debut as a pianist at Coke Studio and despite being the new kid on the block; he was thoroughly professional as he let the player in him shine. Soft, morbid, celebratory, drowning and heartwarming – Jaffer can play magic with his fingers.
"It was an excellent experience for me. I was given a chance to rediscover the musician within me. I'm grateful to Gumby for believing in my skills and putting forward my name for this massive production. I'm also grateful to Rohail bhai for taking this huge risk by taking Gumby's word for it.
Initially I was a little apprehensive about being a part of it. I, being a nobody, was in the middle of all the best musicians the country has to offer. But what comforted me was the support I got from everyone, the house band and the entire Coke Studio
family. To envision me as a permanent member of the Coke Studio team is something I would leave for Rohail bhai to decide but if given a chance, I'd love to offer my skills again," said Jaffer while speaking to Instep.
Besides being a pianist, Jaffer Zaidi also fronts Kaavish, an upcoming band. Their debut album, Gunkali, is currently awaiting release.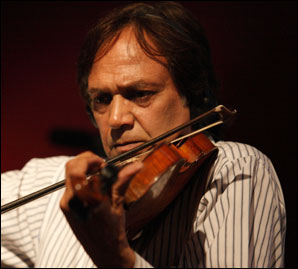 Javed Iqbal (violin)
He can make mournful notes stretch in new dimensions and in equal grace add flavour and festivity when required. Just hear him on Atif Aslam and Riyaz Ali Khan's 'Kinara' as one example. At Coke Studio, he was fondly known as 'Jay Uncle' but Javed Iqbal is so much more than just another violinist. He is one of the finest we have today. For the last four decades Javed Iqbal has been a violinist and at Coke Studio, his sheer authority of the instrument and musicianship makes him stand out.
"I can play notes and I can write them just by hearing a song once," he explained while speaking with Instep.
Javed Iqbal landed at Coke Studio on the recommendation of Jaffer Zaidi who worked with him on his own band's album. "When you give others a chance to bring someone to the studio, it gives them a feeling of ownership," says Rohail Hyatt, who was happy to add another layer of sound with the violin to Coke Studio.
Other than Coke Studio, Javed Iqbal has played with names like Farida Khanum, Nusrat Fateh Ali Khan, Noor Jehan, Nayyara Noor, Abrar ul Haq and on Kaavish's upcoming record Gunkali among others.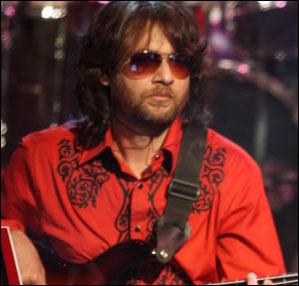 Kamran "Mannu" Zafar (bass)
Kamran "Mannu" Zafar is a silent striker. He proved his mettle as a soothing bass player last year at Coke Studio and this year Mannu is back in action like never before. Mannu doesn't jump on the limelight. He lets his bass do the dance, purely haunt and send a shiver down your spine and impress us all, whether it is a glorious song like 'Aj Latha Naeeo' or a gem like 'Ankhon Kay Sagaar'.
Coke Studio maybe the biggest project for Mannu but he has many other projects to make him command respect and love. They include Ali Azmat's Klashinfolk, Zeb and Haniya's Chup as well as live sessions with Mekaal Hasan Band and Abbas Premjee to name a few.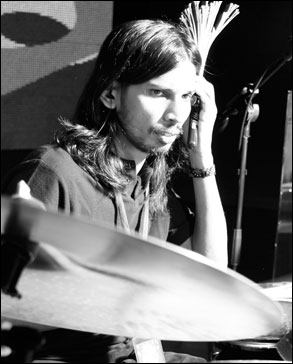 Louis J Pinto aka Gumby (drums)
Much has been said about his talent but nothing comes close to justifying it. Pakistan's premier drummer returned to the heart of Coke Studio, leading the rhythm section with his drums. Gumby sat surrounded by a glass-like "cage", played not just with sticks but with an actual brush (to keep the sound from overpowering other instruments and sounds) and did so with a smile on his face and a wisecrack cooking in his head.
"Some songs were rearranged and some were just free form. I love both seasons of Coke Studio. It has been one of my best experiences ever," said Gumby.
He was the prankster on the set, the one who set the laughter rolling when breaks were on. But when playing, Gumby is restrained yet poignant like 'Dastaan-e-Ishq (Nachna Painda)' or wild with certain tunes (surprise, surprise) we won't mention just yet.
And before Coke Studio began, Gumby was already on a roll; recording in studios with artists like Ali Azmat, Strings, Mekaal Hasan Band, Zeb and Haniya, Jal, Abbas Premjee, Kaavish – the list is pretty long. Suffice to say, he is the best we have in the business and at Coke Studio, the lord of the drums loads up the power once again.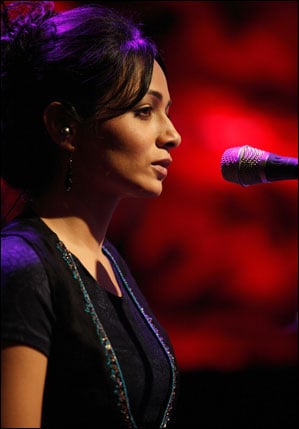 Natasha De Sousa (backing vocals)
Last year Natasha De Sousa joined Coke Studio as an assistant video director and this year her role has changed. While Zeeshan Parwez and Adnan Malik take on the foray of visuals, Natasha joined the house band and has been a suitable replacement to Selina Rashid – who was one of the backing vocalists on season one but took on Public Relation (PR) handling of the show via-a-vis her company Lotus PR this year.
Natasha is full of spirit. At the studio, she was happy to be amidst the biggest musicians of the country. And the high point for her came when she got to sing with Saieen Zahoor who she describes as "iconic" and "awe-inspiring".
Natasha added that extra zing to songs with her soulful voice and didn't mind sharing the limelight with others.
Other than Coke Studio, Natasha is also an actress and has been singing for a while, all the way out from church choirs to opening shows for Sukhbir and Stereo Nation.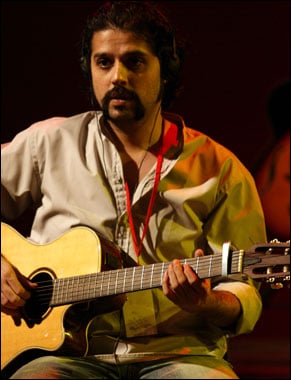 Omran "Momo" Shafique (guitars)
Omran "Momo" Shafique is the cool, laid-back dude on the sets of Coke Studio. Now in his second year with the show, for Omran there is no going back.
"Within five minutes of narration, Omran was onboard with Coke Studio," recalls Rohail Hyatt about Momo's entry into the studio last year.
If last year Omran made us groove with the sound of 'Paheliyan' at Coke Studio, this year he simply let his instrument speak for him. And despite doing so, Momo was still very much in the spotlight for his groovy tunes. There was none of the overbearing guitar solos bit that one finds monotonous. It was just beautiful, the aggression and the passion. Omran Shafique's career graph will further rise with Coke Studio but he is already on his way with Mauj's debut album, Now in Technicolour on the verge of a physical release (it's already out over the Internet).
Other projects include Koastal, Co-VEN as well as playing on studio albums of Ali Azmat (and live shows as well), Zeb and Haniya and the upcoming albums of Kaavish and Maryam Kizalbash.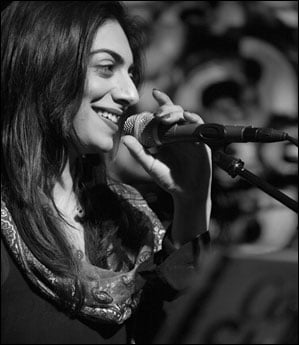 Saba Shabbir (backing vocals)
From season one to season two at Coke Studio, Saba Shabbir has come into her own as a singer. For her singing has been a hobby and Coke Studio is "a learning ground. New energies are created and you find yourself learning so much from it," she said to Instep.
For Natasha's soulful voice, Saba brings a distinct flavour of smoky, sultry voice that gives this show such a strong texture.
Saba Shabbir isn't in it for the fame or money. Born in Britain, raised in Islamabad and having lived in Lahore, Saba's day job is of an event manager but whenever Coke Studio comes calling, she is always open to it.
Her other credits also include a performance at the Alhamra Auditorium in Lahore where she performed an original song with band Knumb, after which she went on to record single 'Akhri Baar' with Shehryar Mirza.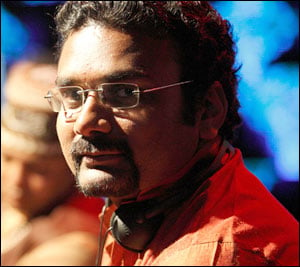 Sikander Inam (percussions)
Yet another new addition to the percussion line-up this year, Sikander Inam brought his dholaks to colour the surface with his beats to Coke Studio this year and was blown away by the kind of musical environment he felt and became a part of.
"This is true fusion and it's the best. Rohail Hyatt is meticulous with sound and for me this is a big honour," he said smilingly to Instep in between recording sets.
Sikander's meaty dholaks have earned him shows with the likes of Ustaad Javed Faiz, Abrar ul Haq, Jawad Tariq Tafo and Nisar Butt.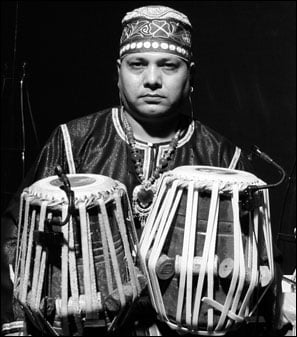 Waris Baloo (percussions)
"I have played live all over the place. I have learned under the tutelage of Ustaad Ejaz Hussain Baloo but Coke Studio is perhaps the first show of its kind in Pakistan and that makes me very happy and pleased to be a part of it. Different schools of music have come together and it's a great place to meet and discover new sounds and learn," says Waris to Instep.
For Waris, it was hard to decide who he enjoyed playing with most. But the respect he garnered "was unprecedented. Everyone was very kind. We've all been calling Ali Hamza, 'Halwa Noori' – it was so much fun," he said.
Coke Studio is one accomplishment in his long career. Waris has been playing dholaks and tablas for the last two decades and has
worked with the legendary Nusrat Fateh Ali Khan, Ustaad Salamat Ali Khan, Malika-e-Tarannum Noor Jehan and has even directed music for Arif Lohar, Shafqat Salamat Ali and Sher Miandad. Waris has also taught his instrument – the dholak – at a university in Denmark.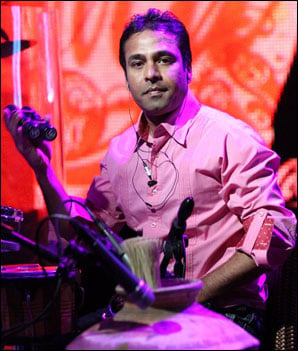 Zulfiq "Shazee" Ahmed Khan (percussions)
After a successful stint on season one, "Shazee" is back at Coke Studio with his multi-percussion instruments including the earthy matka that has given the percussion set such a strong and remarkable feel.
"It's hard work for everyone and this house band has been a fantastic team to work with. Everyone at Coke Studio has been incredible. Coke Studio is a breather for the music industry. A sense of unity has come out just like last year and this time its bigger I think," said Shazee who smiled his way through the rehearsals and the recordings.
"Through these songs, if Eastern instruments and players come into the spotlight, it will be an accomplishment," says Rohail Hyatt. And this is where men like Shazee stand out for their skill, verve and vigour.
Other than Coke Studio, Shazee has worked with iconic names like Hadiqa Kiani, Ali Haider (who is now no longer making music), Sajjad Ali, Jawad Ahmed and both nationally and internationally with his band We-Five.
link: INSTEP Magzine
your comments: