Crank up the volume with Pindi Aye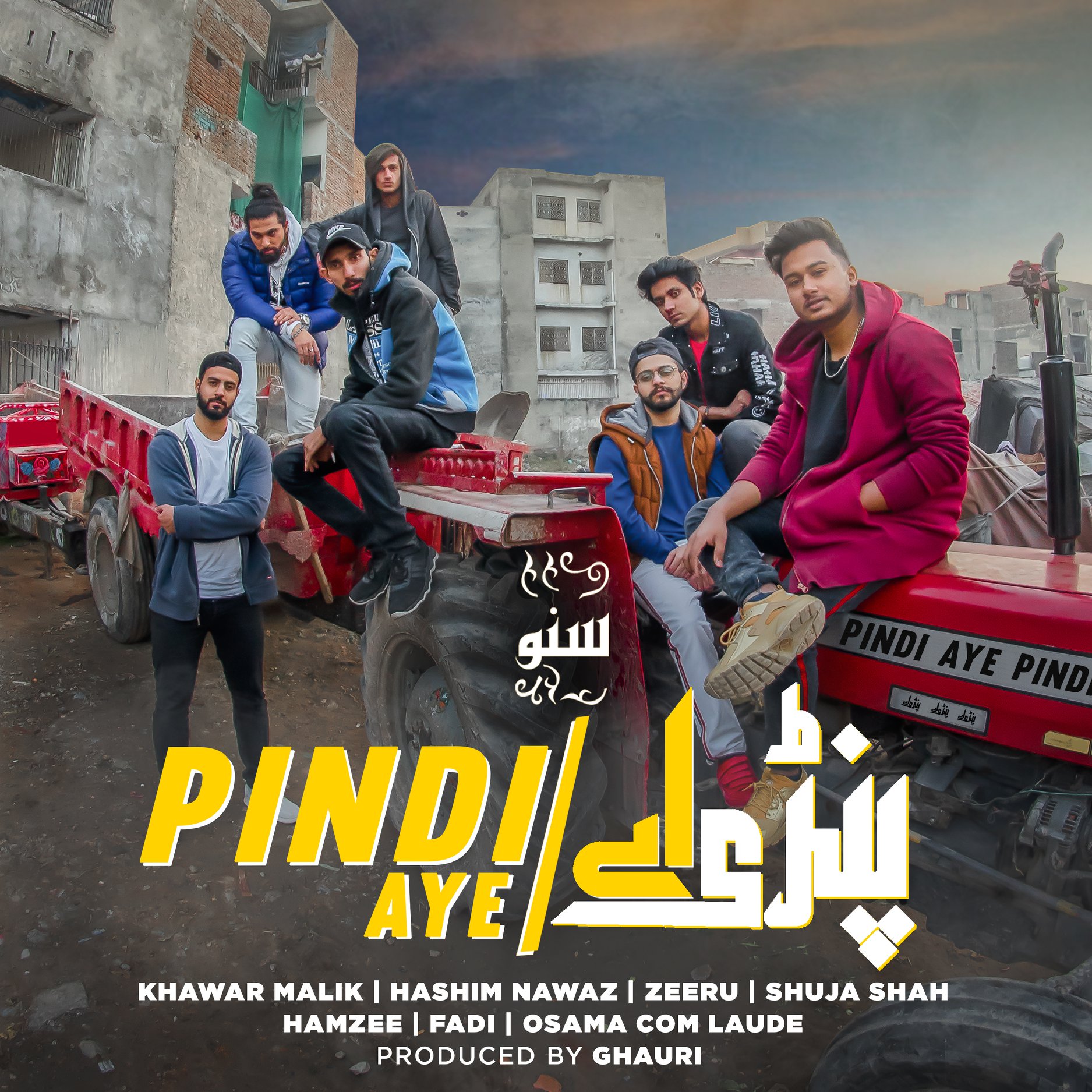 Hip Hop in Pakistan is finally on the rise. People are becoming familiar with the street language, the concept of dissing rivals, brawls and emotions associated with rap and hip hop. There is immense world-class talent of an international level. Moreover, in Pakistan, the scene is not restricted to just Lyari, one can witness the rise in this genre in Pindi, Lahore and Balochistan too. Rap in Pakistan is buzzing.
Sponsored Video:

There is no place like home, and if there is one thing rappers have in common, that is their love for their home cities.. How to celebrate the city that never sleeps? Keep it up with a bombastic hip-hop epic armed with a chorus from that bellows from the streets of Pindi.
Written & performed by Hashim Nawaz, Khawar Malik, Zeeru, Shuja Shah, Hamzee, Fadi & Osama Com Laude, Pindi Aye takes you on a hip hop tour of city 'Rawal Pindi' focusing on the cityscapes, food, politics, romance and life of the pindi boys on the streets.
Read: Hit the curveball life threw at you with Fanaa by Karakoram
Released via They-See Battle League on YouTube on 14th Feb 2020, the song has scored 4 Million plus views and 154k likes. They See Battle League is sub-continent's first battle league, and world's first Desi hip hop movement embracing Rap Battles, BeatBoxers , Music Producers, DJs and B-BOYs.
If you're looking for a magic elixir to get yourself in gear, try cranking up the volume on this one.
Watch Pindi Aye:

LYRICS
(Intro)
Sunno
(Verse 1 – Hashim Nawaz )
Ha! Saanu twaanu dassan di na lorr assi ki shay aan
Dunya nu pata, Pindi jo shehr aa
Mangday oh kinna par mil di koi khair na
Tou chotay vairr na paaween
Eik toun eik wadd k haraami
Rende bas haal ch, bhul jaanday maazi
Sonday saweray te gaddiya te raati chalaanday gaanay uchay puraanay papi
Par wadda hai dil saadaa (bao wadda!)
Jhuk k miltay hein saada kuj ni jaanda
Pyaar jinnu karde oh sada ho jaanda, gaddi kol waddi par sungat ae Honda naal
Pindi sher agg jiwein raanr aalay saaray check kar kinnay
Khush raanday bhaawein aaway museebataan
Aik waari kenday gal karde repeat naa
Mangde bheek na jinnah ditta ve Rabb
Ustay aan khush, kal da na pucho ae har welay bhukkay na
Jeda vi ho aggay la lenday thuk
Assi naway so, twaadi ni aan bro
Pindi boys hein jo aap k bhai hein piyo
Matlab rishtay do, apnay dil pe lo
Haazir dimaaghi ki ghalti do Pindi ko Pindi lo
(Hook – Khawar Malik )
My boys drive Mehran from Karachi to Lahore
Mere Pindi key hain boys, karen party till 4
Girl turn up the beat, sit in my backseat
Pindi boys, best choice
Play this track on repeat!
Pindi aye, Pindi aye, Pindi aye, Pindi aye, Pindi aye
Shehr ye Pindi hai
(3x)
Pindi aye, Pindi aye, Pindi aye, Pindi aye, Pindi aye
Bawa ji Pindi hai
(Verse 2 – Zeeru )
Baat kuch aisi, Pindi key logon ki
Burger ye samjhay hai, life inki pogo si
Dekh key hain kartay humain ye laugh
Hain larkay hum saday, need ni hai logo ki
Pindi boy, Pindi boy, zubaan pe hook
Rehtay hum khush, chahay bol le aur kuch
Par di na jab jani tum ne koi gaali
Tau boys ne humari hai le ni pistol chuk
Rola jab ho jaye hum bhagtay nai darr key
Larkay ho ziyada tau phir bhi hum lartay
Ab rola tumhara tab de te ye dhamki
Hai dusri baar lartay, saray maslay parh key
Choti si galliyon mein khele hum khel
Uncle se ziyada hai bachon ki game
Malik aur Raja har bachay ka name
Pindi naam chahay chota, par choti ni fame
(Verse 3 – Shuja Shah )
Pindi key larkay tau hai hi toofani
70 ko rehne na de te purani
Bachay tau bachay hai baro mein craze
Machi hai ban na aur wheeling uthani
Baat ki jaye agar idhar key khaano ki
Mammoo key burger ki, Nawaz key paano ki
Banni key nashtay ki kya hi hai baat
Savour key chawal tau khatay har raat
Raja mashoor hain chuknay mein wheelie
Malik/Abbasi/Chaudhry ki gali
Subha se shaam har waqt hai raunak
Raja Bazaar, Sheikhay ki 'veli
Maan na paray ga ye banday hai kharry
Galliya choti hai, par dil hai baray
Google tum kar lo hum aiwi nai famous
Pindi key hater ho tau ho jao paray!
(Hook – Khawar Malik )
Pindi aye (5x)
Shehr ye Pindi hai
(3x)
Pindi aye (5x)
Bawa ji Pindi hai
(Verse 4 – Hamzee )
Pindi aye, Pindi aye, Pindi aye, Pindi aye, Pindi aye, Pindi aye, Pindi aye shehr
Rajay da phadda, Malik nu call, Malik hori sidday khol de fire
Muu main sutta, haat mein flame ho
Mujhe do na mere shehr ko blame do
Chass ee wakhri hoti hai bawa ji
Sehri key baad 6th Road pe game ho
Laaray aisay, truck ki battian
Samaj se baahir hai apni kattian
Sidday banday pher key rakh den
Pakar se baahir hai apni yakkian
Puray shehr ka tora maarain, bike mein mutar 100 ka hai
Phaaro jitnay phaar saktay ho, SHOPPER KISI KEY PIYO KA HAI?
Hakoomat laga ti double pe pabandi
Baith te eik pe 3 hi sangi
Ghabraatay na hum, thullay jab haath den
'Slater na tori, sidda hi jaan de
Aisa koi scene fir dasseya ay rola
Charh jaati toli, atay nai hola
Wajain fire, gandageer nassay puthay payr
Mathay pe shikan tau phir Rabb karay khair!
(Bridge – Khawar Malik )
Ao mein de ta hun Pindi me daawat
Easy ho jao nai koi thakawat
Pindi bulaoon ga chai banaoon ga
Chai bana key mein sab ko pilaoon ga
Chai pila ke mein sab ko nachaoon ga
Jani phir tum ko mein Savour chikaoon ga
Savour se ho key phir mein tum ko mein
70 pe Centaurus ki sair karaoon ga
(Verse 5 – Fadi )
Subha ka aghaaz ho ta Gold Leaf key kash se
Nashtay se pehlay hum jatay hai chatt pe
Chahe kisi ka bhi hua ho rola
Apna tau farz hai lagaen ge chaskay
Khud bhalay ganday par Honda hai saaf
Atay na Dolphin Police key bhi haath
Isharay pay kabi na hotay hum kharay
Saray kanoon akay is pe charen
Helmet tau hum ne kabi nai pehna
Yun petrol nai milna hakoomat ka kehna
Hum pump pe hi ja key lagatay jugaar
Uncle eik mint zara helmet to de na
Mehboob aur hum mein jo ajaye judaee
Raat poori phir chik te dawai
Kasmay pehlay di chass hi nai ayi
Masair o mainu tu duja lawaen
Eik cheez ha same yahan machi aur bachi mein
Dono hi lo**y laga ti hain achay say
Bike to ha hi par hum bhi direct hai
Pindi ajooba ha puttar ye fact hai
Pehntay yahan sab lambay se cholay
Na kisi mein himmat khilaaf jo bolay
Choti si baat pe fire yahan kholen
Uffo Pindi tere rolay!
(Verse 6 – Osama Com Laude )
Rolay, rolay Har koi bolay
Pindi aisa, pindi waisa
Lekin Pindi ka naam in key muu se khulay
Jaisa, inka khata yaha para, Rehn do (yuh)
Tussi te baray pan Ch , mere squad ne dassa na
Iss de baad koi vi ni hassan ga!
Mainay bola tha, kar le na holla
Phainkay ye dolla, all in Chaklala
Phir bhi, tu ne na maan, Ab tu ne siraf uthana(Kya?)
Ye neechay jo lagen barood hai (heavy)
Dekh mere kitnay mehboob hai
Urdu mein maara ye switch
Tau bachiya bolay Osama tau rude hai
(Haha) ye bhi din ana tha (kasmay)
Teri baby ne mujse karwana tha
Wo Uni mein nai, Saddar mein bethi, kar ri hai split mere banana ka (mazay)
Hamzee ne diya tha mauka (mauka)
Fadi ne diya ye taufa (taufa)
Zeeru aur Shuja tau hero hai future key samaj le sara zamana!
Kar seva, Warna banan ga teri voti nu mein beva
Rehn da mein chill lekin karan ga mein tera
Unun jo vikhaye mere agay do kisam da cherha
Samjha? (ha!) Ye Pindi ay (beta)
We cruise late night like Jimmy
Me and GHAURI come and crash the party
Phir ayashi karen Murree brewery mein
Ao ji, ao ji, jugat khao ji
In burgero ko please samjhao ji
Osama Com Laude in sab ka hai daddy jaisay pulao mein Savor ka baap hai Bao Ji
Apnay dam pe khara (mera!) kabi kisi se nai sara (kabi nai)
Aur chori chori koi bhi chori nai chori kisi pul mein Metro ki tarha
Meri Alto hai meri Prado, jani tu nai samjhay ga
Niklun baahir, tau dolo se zaahir hai ye bolay jani bravo, wah!
Nawazo ne jaan le li, aja mere laal haveli
Khawar bata inay humara kaam jo karen hum daily (Pindi Bois!)
(Hook – Khawar Malik )
My boys on Mehran from Karachi to Lahore
Mere Pindi key hain boys, karen party till 4
Girl turn up the beat, sit in my backseat
Pindi boys, best choice
Play this track on repeat!
Pindi aye, Pindi aye, Pindi aye, Pindi aye, Pindi aye
Shehr ye Pindi hai
(3x)
Pindi aye (5x)
Bawa ji Pindi hai
your comments: