Black Panther (Diss 18+) Young Stunners (Official Music Video)
The Young Stunners have just released their latest track Black Panther and it's off the hook!
*WARNING* PARENTAL ADVISORY EXPLICIT CONTENT 18+ (Last Response to All the Diss Tracks) Possibility of: Excessive Alcohol Consumption, Lewd & Indecent Acts, Explicit Language, Illicit Narcotic Use, Extreme Noise Pollution.
Liked Black Panther? You'd love Munshiyat!
Written/Performed by Talhah Yunus
Director: Abdul Wali Baloch & "X"
Production: Talhah Yunus
Director of Photography: Roshan Usman
Music Producer: Umair Khan
Audio Engineer: Zyad Ahmed Tariq
Artwork: TheRealAnupam
Mix/Master: Legend Jokhay
Edit/ColorGrading: Talhah Yunus
Special thanks to Sarmad Shafique and LUG Lyrics
Do check out their track Dear Zainab here.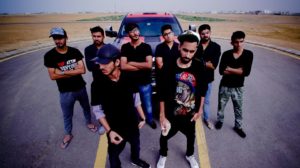 Follow them on:
Instagram: @TalhahYunus @talha_ys @khan.umair791
Twitter: @TalhahYunus @Pac_talha
your comments: